How To: Trim Your Cat's Claws
by Emily Cook | Cat Care | August 12, 2015
Trimming your cat's claws doesn't have to be a scary experience. We can help you develop the skills to do it so everyone is comfortable!
Have a look at our video with Dave Salmoni on how to trim you feline's sharp claws!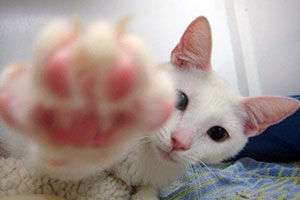 Step 1: Bring your kitty up close to you and press the soft pad of their foot to bring the claws out.
Step 2: Look for the white tip of the nail – that's what you will trim off.
Step 3: Continue process on each foot.
Step 4: Give them a break whenever they seem overly stressed.
Also, read our post on why cat's need their claws to encourage you to trim!
Good luck!
Categories
As an animal lover all the work you do
As an animal lover all the work you do to help ensure that every dog and cat can find their forever home that is filled with love is greatly appreciated.
-Louie
Sign up for news and updates
Thank you for joining our online community.