iAdopt for the Holidays Facebook App
by Emily Cook | News | November 26, 2013
We are currently running our largest adoption campaign of the year – iAdopt for the Holidays. Our goal is to get as many pets placed into their forever homes as possible this holiday season. In an effort to support this goal, we have created a Facebook app on the campaign.
The iAdopt for the Holidays Facebook app is the place to go for the latest campaign information. With the app, you can watch our iAdopt for the Holidays YouTube video, like our Facebook page, visit the website and take a quick survey. We encourage you to take advantage of this great app and share it with friends and family!
Click here to access the app.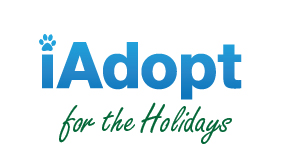 Categories
As an animal lover all the work you do
As an animal lover all the work you do to help ensure that every dog and cat can find their forever home that is filled with love is greatly appreciated.
-Louie
Sign up for news and updates
Thank you for joining our online community.