Is your Doghouse Ready for Winter?
by Ontario SPCA and Humane Society | Dog Care | November 23, 2018
As temperatures drop and we pull out our coats and cozy up by the fire – we need to make sure our furry friends are staying toasty warm too!
In Ontario, dogs can live outside during the winter if they are provided with an insulated doghouse of proper dimensions and provided with food and water.Read more about the best doghouse dimensions for your pup here.
4 Things You Need to Know About Housing your Dog Outdoors: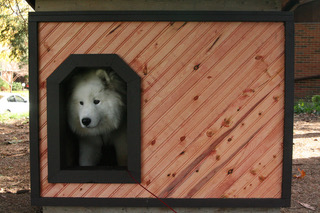 1. Dogs should be acclimatized to outdoor living when they are young and the weather is warm.
2. During severe weather, dogs may need to be brought inside the home.
3. Aged, young or sick dogs should not be housed outdoors, especially during cold weather.
4. Dogs with short coats are prone to frostbite and cannot endure extended exposure to cold temperatures.
Building your Winter-Proof Doghouse:
Doghouse exteriors should be finished with a weatherproof material or non-leaded paint.
Bedding materials should be put in the sleeping area – straw is recommended over blankets. Bedding should be changed every 1 to 2 weeks.
A burlap or canvas outside flap should be used to provide more weather protection.
The doghouse should be elevated on bricks or cinder blocks to keep the floor dry.
If your present doghouse has a peaked roof and is large enough, it may be possible to install an insulated ceiling and a separate hallway, making it warmer in the winter and preventing ice jams on top. In addition, a small rainproof vent could help to dissipate any moisture inside, thereby reducing the possibility of mold.
Here are a few more important doghouse recommendations from the Ontario SPCA:
A dog that is kenneled outdoors should have time to spend indoors with the opportunity for socializing and play.
Ideally the roof of your doghouse should be removable to make cleaning the interior easier.
To build your own ideal doghouse for your pooch, including: construction details and dog breed specific dimensions, download our Ideal Doghouse brochure.
Additional tips on keeping your pets safe during the cold winter months can be viewed online at www.ontariospca.ca.
Categories
Testimonial
Dogs only ask for your love and attention
Dogs only ask for your love and attention, nothing else. Thank you for everything you do!
Christine
Sign up for news and updates
Thank you for joining our online community.