Katie Finds Her Forever Home
by Laura Therrien | Happy Tails | June 5, 2013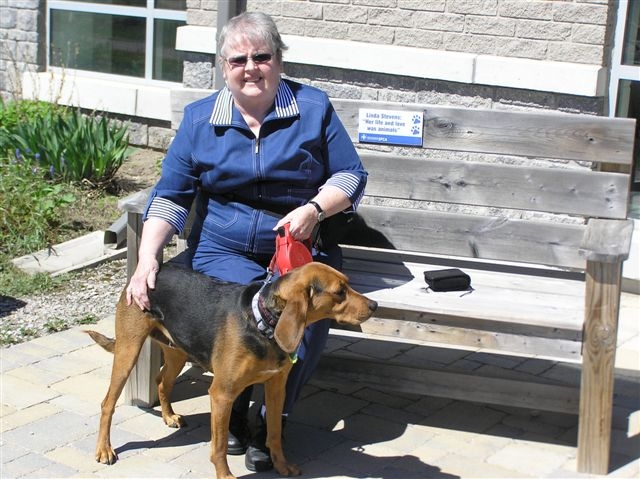 Just weeks before Christmas, the Ontario SPCA Midland Branch was contacted by a family who wanted to surrender a mother dog and her pups.
The family had rescued a small hound found wandering around in the woods, in November. The hound was hungry and dirty, probably a lost hunting dog. Unbeknown to them the dog was pregnant and within weeks of her rescue gave birth to 10 puppies! The family tried to keep the mom and pups but it proved too much and they could not cope.
So …Katie and her 10 pups spent the next few months at the shelter. Katie was a great mom and persevered through weeks of nursing, grooming and feeding, 10 demanding little pups. Everyone who saw them fussed over the pups and said what a cute mom Katie was, a pup herself almost!
As time went on the pups and Katie were spayed, neutered and ready for adoption. One by one Katie watched her pups all get adopted into loving homes….all but Katie. Another month had passed and where were all those people who had thought she was so cute?  Then Katie became depressed and didn't want to go out for walks or be with anyone other than a few people from the shelter.
One day Dianne came into the shelter looking for a companion and saw our sad little hound, all alone. At first Katie was reluctant to be won over by yet another stranger! After weeks of daily visits and friendly talks on the bench Katie finally decided she could give herself to Dianne and become her friend.
In May, our Katie was adopted by Dianne and went to her new home. They are great companions going for walks, car rides and good company for each other.
For Katie it was a long wait but worth it!  Thank you Dianne for taking the time to get to know Katie and build that trust.
Categories
Testimonial
Hats off to you
To all kind-hearted and hard-working people at SPCA: hats off to you. I love animals and admire the work you do.
Kellie
Sign up for news and updates
Thank you for joining our online community.