Learning to be a dog: Scout's road to rehabilitation
by Ontario SPCA and Humane Society | Dog Care Happy Tails Interesting | March 22, 2022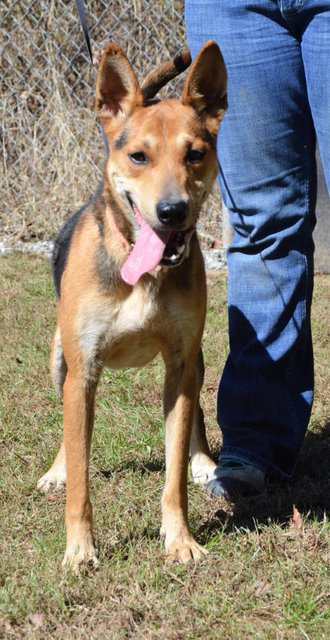 Scout is on his way to becoming the best dog he can be – a remarkable journey given his rough beginning.
The two-year-old 45-lb Doberman/Shepherd mix spent his early years chained inside an eight-foot by 10-foot dog run enclosure. Rescued by an organization in the United States, he was one of 200 dogs and cats transported from the U.S. to the Ontario SPCA Lennox & Addington Animal Centre in 2021 to find a loving home.
Many shelters in the U.S. are at capacity, which means they don't have space to help with any more animals that show up at their door. While the Ontario SPCA and Humane Society's focus is on helping animals in Ontario, when we received a request for assistance, we stepped up to help make space in shelters south of the border. These animals were running out of options.
Scout's experience of being chained and isolated meant he didn't know how to socialize with other dogs. He hadn't been taught basic manners. He was a bundle of energy and would be pushy with other dogs. He liked people, wanted their approval and loved jumping up on them, but he wasn't sure what was expected of him. As for cats, Scout was fairly certain they were meant to be chased. 
Rescued dogs, like Scout, often need a little extra training, patience and TLC to reach their full potential. It's a big undertaking for an animal centre to devote the extra one-on-one training and attention to dogs like Scout while also caring for other animals waiting to be adopted. 
Now imagine a place where dogs who have experienced emotional and mental challenges can go for behavioural support and rehabilitation. That place is the Ontario SPCA Provincial Dog Rehabilitation Centre, which is currently under construction and anticipated to open in late 2022. This centre will be one of the first facilities of its kind in Canada, and one of only a handful in North America, to be purpose-built with the special needs of challenged dogs in minds. It will fill a critical and significant gap in current services by addressing the individualized needs of dogs most difficult to adopt.
The centre is a collaboration between the Ontario SPCA and Humane Society and the Peterborough Humane Society and will include a number of unique features:
A real family living room where dogs can practice being in a home; for many dogs, this may be their first opportunity to experience being in a home environment.

 

Flexible training rooms that can be adapted to help overcome situational problems such as resource guarding or fear of certain noises
Staff experts with training in dog behaviour who can put the latest evidence-based dog behavioural research into practice
The centre will be a place that will provide extra support for dogs like Scout that need emotional and physical rehabilitation. It will give them a second chance at finding their forever home.
Scout's adopters describe him as a good dog. "He has a good heart," his adopter says. They continue to work on his habit of jumping up and some of his other behaviours. Trips to the dog park have helped with Scout's pushy playing tendencies and his interactions with other dogs. Scout and the family cat are not yet best buddies, but they are learning to co-exist.
"I am looking forward to taking Scout to the family cottage this summer and seeing how he does in the lake," says his adopter. With consistency, patience and love, Scout is overcoming his challenges.
You can help change the lives of dogs like Scout. Please consider making a donation today to help get the Provincial Dog Rehabilitation Centre to the finish line. Visit ontariospca.ca/dogrehab to learn more.
Categories
Testimonial
Speaking for the ones who can't speak for themselves
Keep up the good work speaking for the ones who can't speak for themselves. A society who cares for their animals is a better society.  Thanks for your good work!
-Suzali
Sign up for news and updates
Thank you for joining our online community.