Let us Celebrate…Adoptions for June!
by Laura Therrien | Happy Tails | July 11, 2013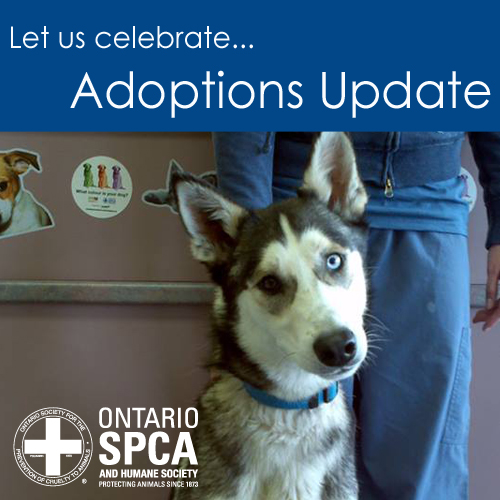 June was a great month for adoptions across the Ontario SPCA Branches.   Thanks to our Cat Extravaganza promotion, we had an increase of 54% in cat adoption from this time last year.  We are celebrating a total of 334 cat adoptions for the month of June.
Also adopted in June, 170 dogs, 2 Chinchillas, 2 Ducks, 8 Rabbits, 5 Guinea Pigs and a handful of different birds.  The grand total of all animal varieties that were adopted from Ontario SPCA centres throughout Ontario comes out to over 500.
Thank you to all our adopters, supporters, volunteers and staff members who have made June such a successful month in finding all these wonderful pets a loving forever home.
If you are looking to add a pet to your family, check out your local Ontario SPCA Branch or Affiliate and make adoption your first choice.
Categories
I stand behind SPCA with my monthly gift
I stand behind SPCA with my monthly gift. I am so happy there are folks like you to care for those who can't help themselves.  My family and I have had animals all our lives and know what a comfort they are.  Thank you SPCA.
-Dorothy
Sign up for news and updates
Thank you for joining our online community.