Low-Cost Rabies Vaccination and Microchipping Clinic
by Emily Cook | News | April 10, 2015
***This post is from April 2015, please stay tuned for our 2016 dates for the rabies and microchip clinics, thank you***
Now that spring is here, it's time to check your pet's health records and get ready for spring vaccinations. Did you know that Ontario law requires all cats and dogs over the age of three months to be vaccinated against rabies?
PJ's Pets and Petculture are dedicated to pet care and pleased to be hosting low-cost rabies vaccination and microchipping clinics in Ontario, sponsored by Dr. Jeff Rabinovitch, DVM.
RABIES FACTS:
All warm-blooded animals, including humans, can be infected
Rabies is a reportable disease – if an animal is suspected of being rabid or an animal(s) has been exposed to rabies, it is the law to report it
Incubation period varies from 2 weeks to several months.
If a person is bitten by an animal, wash the wound or exposed surface with soap and water, remove clothing that may be contaminated, contact your doctor immediately or go to the nearest hospital emergency room.
Rabies is fatal once clinical signs appear
Source: Ontario Ministry of Agriculture, Food and Rural Affairs
This clinic is for rabies vaccinations and microchipping only. The fee is $20.00 per vaccination or microchip, and payment is cash only. For safety reasons, dogs must be on a leash or in a carrier, and cats must be in a carrier. First come, first serve.
Remember: an ounce of prevention is worth a pound of the cure!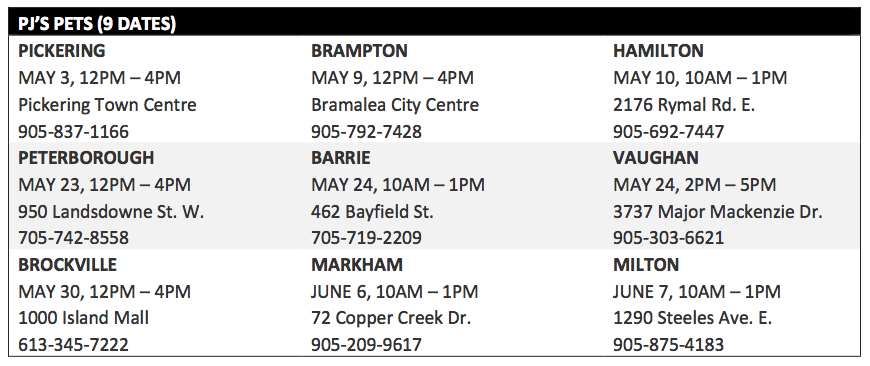 Categories
Testimonial
We have supported the OSPCA since 1951
We have supported OSPCA since our arrival in Canada in 1951.  Keep up the greatest  T.L.C. for animals.
-Paul & Des
Sign up for news and updates
Thank you for joining our online community.