Maria Overcomes Amazing Odds Thanks to her Loyal Companion
by Laura Therrien | Happy Tails | April 11, 2013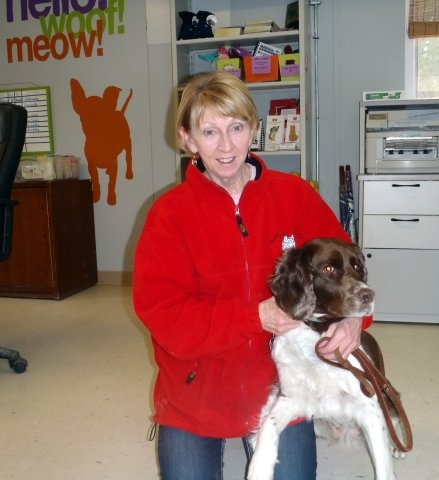 On October 3, 2006 Maria, a supporter of the Ontario SPCA Renfrew County Branch, met Shiloh a very scared and timid 6 months old Springer Spaniel.  Maria instantly fell in love with Shiloh and adopted her.
Over the years, Shiloh and Maria experienced both the highs and lows of life. In 2008 Maria became concerned that Shiloh had developed an odd tendency to constantly nudge her in the armpit. Soon after, Maria discovered a large lump in that area and went to her doctor. Her doctor determined that Shiloh had probably been trying to alert her to the cancerous lump. Maria underwent Breast Cancer treatment with Shiloh by her side. If Maria was sick in bed, Shiloh was there. If Maria cried, Shiloh was there trying to lick away her tears.
Last fall Shiloh's family was again struck by unfortunate news. Maria required brain surgery. Yet again Shiloh was there. Her doctors and surgeons were amazed  by her quick recovery which Maria credits to Shiloh's undying devotion, love and support.
Shiloh's story is one about the love and support a shelter pet can provide even in the most trying times. Shiloh is a best friend, rescued shelter dog and an everyday miracle worker in the life of her beloved companion.
Even in her darkest hour, Maria ensured that provisions were made for Shiloh and the Ontario SPCA Renfrew County Branch if things had not turned out as they did.  She wanted to ensure Shiloh and many other shelter dogs would be taken care of just as Shiloh took care of her.
If you or a loved one require more information about planned giving and leaving a legacy for the Ontario SPCA or local Branch please visit  the Planned Giving Page or contact our Donation Department at 1-888-668-7722, ext 321.

Categories
Testimonial
Dogs only ask for your love and attention
Dogs only ask for your love and attention, nothing else. Thank you for everything you do!
Christine
Sign up for news and updates
Thank you for joining our online community.