Meet Sheeba, a service dog full of love!
by Ontario SPCA and Humane Society | Happy Tails | June 1, 2021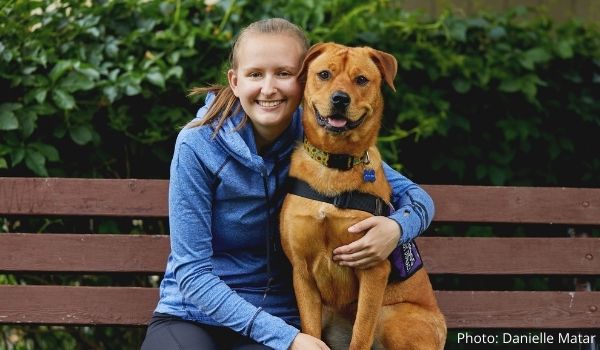 Meet Sheeba. Sheeba was transported from a remote Northern community to find a home through the Ontario SPCA and Humane Society's Animal North Network. When Brianna adopted Sheeba, she never imagined the profound impact her new friend would have on her life…
When Brianna suffered a panic attack, instantly, Sheeba seemed to know what to do. She rushed to Brianna's side and helped her to the safety of the floor. Sheeba then used her warm body to help Brianna feel grounded and secure.
After going through training to hone her instincts, Sheeba is no longer just Brianna's furry friend – she's Brianna's trusted service dog!
"Sheeba is my life-saver," Brianna says. "She is saving my life every day." 
So many animals like Sheeba urgently need your help. Please find it in your heart to give a gift for animals who need care and a family to love them. 
Read more of Sheeba and Brianna's story here!
Interested in adopting a dog ? Here are some helpful tips on what to expect before adopting a puppy.
Categories
Testimonial
Thank you for your dedication
Thank you for your dedication to helping the animals.  Every animal deserves a loving home and to be treated royally.  Just imagine a day without animal cruelty.  What a wonderful day that would be!
-Joan
Sign up for news and updates
Thank you for joining our online community.