New partnership with Waze to give reminders to people travelling with pets
by Ontario SPCA and Humane Society | Campaigns | July 6, 2017
The Ontario SPCA is pleased to be partnering with Waze to bring helpful reminders to pet owners travelling with their four-legged friends.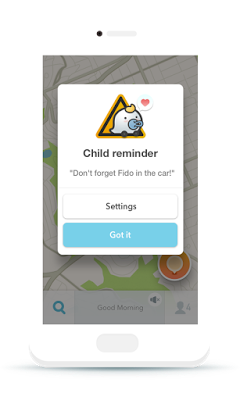 Waze, the world's largest community-based traffic and navigation app, has introduced a new safety feature, Waze Child/Pet Reminder alerts. After navigating to any destination, this customizable, opt-in alert appears at the end of your ride and reminds you to check your car before you leave.
Time driving is usually spent planning next steps – what we'll do when we reach our destination, what to make for dinner, which route to take. We hope this feature serves as a reminder to be present and remember our furry friends who cannot speak up when it's time to get out of the car.
To set up the reminder alerts, make sure you have the most recent version of Waze downloaded from your app store and go to Menu > Settings > General > Child Reminder > Turn on "Allow Reminders."
Child Reminder alerts can be updated and turned off or on at any time from the Settings menu. You can also customize your message to include your child or pet's names! To customize your message, follow the steps above, then select Custom Message > Type to add your custom message > Tap "Done".
If you witness an animal unattended in a hot car, please call your local police immediately.
Together we can save lives this summer. We appreciate your support!
To take the pledge and receive a free No Hot Pets decal to put on your car, visit nohotpets.ca
Categories
Testimonial
Three cheers for the volunteers!
Three cheers for the volunteers! Keep doing wonderful work, thank you!
Doreen
Sign up for news and updates
Thank you for joining our online community.