Newmarket Spay/Neuter Services Performs Ninety-Eight Surgeries
by Laura Therrien | News | November 12, 2012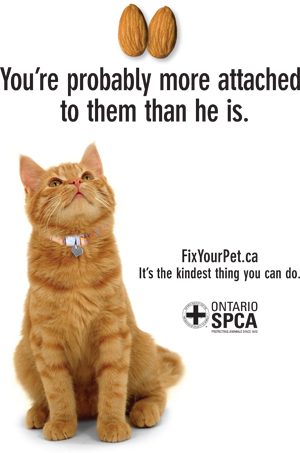 In light of National  Shelter Appreciation Week, we would like make a shout out to the staff at the Ontario SPCA Centre Veterinary Hospital, in Newmarket !   Last week, they performed 98 surgeries, including 59 cats and 49 dogs.
Our spay/neuter services are a high volume, self sustaining operation. The public, shelters and rescue groups are welcome, regardless of geography or income level.  Learn more about these spay/neuter services.
The pet overpopulation crisis is a direct result of animals left unaltered, so spay or neuter your pet today!
For more information on the importance of fixing your pet, visit www.fixyourpet.ca
Categories
Dogs only ask for your love and attention
Dogs only ask for your love and attention, nothing else. Thank you for everything you do!
Christine
Sign up for news and updates
Thank you for joining our online community.