Oscar the Golden is now enjoying his golden years
by Ontario SPCA and Humane Society | Happy Tails | April 4, 2023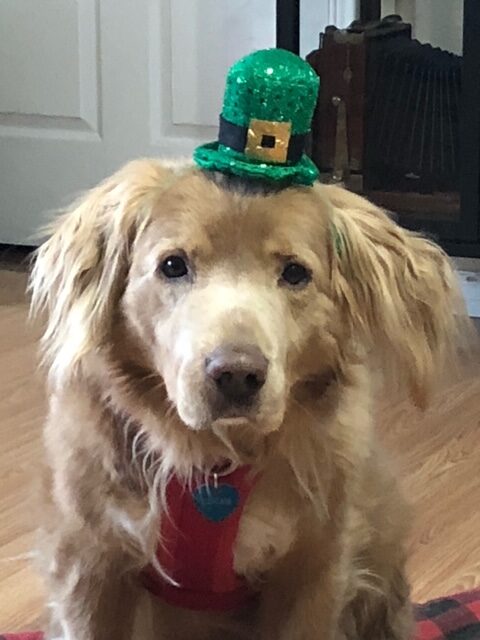 Did you know that today is World Stray Animals Day? The team at the Ontario SPCA Sudbury & District Animal Centre remembers the day when Oscar came in as a stray. Sad and alone, this sweet 10-year-old Golden Retriever came in with infected ears and was also diagnosed with arthritis. The team appealed to the public to find his family, but unfortunately no one ever came forward. Oscar needed to find a new forever home.  
Jen and Dave discover Oscar's adoption post
On the other side of town, Jen and Dave had been missing the presence of a dog in their lives.  They were no strangers to older animals and had adopted an aging Beagle-mix named Chase back in 2019. Chase lived out his golden years surrounded by the love of his family and passed away in November 2022. Still mourning his death, Jen and Dave had planned on waiting a bit before getting another dog, but when they saw Oscar's adoption post, Jen immediately knew this dog was meant to be with them.   
"We knew when the time came, that we didn't want to have a puppy because they needed a lot of time and attention. We had a good, but fairly short, time with Chase (who still acted more like a puppy until his last few days) and felt certain that there were other older dogs out there that people would pass on due to their age," says Jen.   
Jen and Dave knew Oscar had some health issues and that he was getting up there in age. With his time being limited, they knew that whatever time Oscar had left should be spent with a family who needed him just as much as he needed them.
Getting ready to bring Oscar home
Jen was so sure Oscar was meant to be that she arrived at the Sudbury & District Animal Centre with a blanket, treats and a stuffed animal toy. Unfortunately, Oscar was away at a veterinary appointment, so she had to wait a little longer before meeting this beautiful boy. The wait was worth it though, because the time finally arrived for Oscar to come home and meet the rest of his new family. 
Oscar spent the first few days settling into his new home. He was shy at first, but once he realized he was there to stay, it didn't take long for Oscar to get comfortable. He loves to sit on the couch with his new family and sleep with his new favourite human, nine-year-old Zachary, who absolutely adores Oscar.  
"After Chase passed away, the house felt empty. Now that Oscar is part of the family, it feels like a complete family again," says Dave.  
Oscar loves to spend his days cuddling and getting belly rubs. He also has a furry friend; a guinea pig named Moe who keeps him entertained. Most of all, Oscar loves to go for rides in the truck whenever he can. Dave even installed a ramp so he and can get in and out without any discomfort. 
The joys of adopting a senior animal
Oscar is truly living his best life thanks to Dave and Jen.  
"I don't think people should pass up on the opportunity to take in an older dog based on the fact they may only have them for a short time," says Dave. "That time can be the most rewarding time for both you and the dog. It certainly has been the case in our family. We hope Oscar is with us for some time as he has been the best dog we have had." 
If you are interested in learning more about caring for older animals, talk to one of our adoption coordinators to see if adopting a senior animal is right for you. Visit ontariospca.ca/adopt to view our animals available for adoption. 
Categories
Testimonial
Thank you so much for all you do
Thank you so much for all you do every day to rescue animals in need. I can't imagine the terrible situations that you see every day.  It is great that you have the heart to help. Keep up the good work.
-Betty
Sign up for news and updates
Thank you for joining our online community.