Pets and the Holidays
by Emily Cook | General Pet Care | November 25, 2010
The arrival of holiday music in malls and stores means the season of celebration is coming! Many people get caught up in present buying, food preparation and holiday plans. There are some considerations you need to make when it comes to your pet and the upcoming holiday season.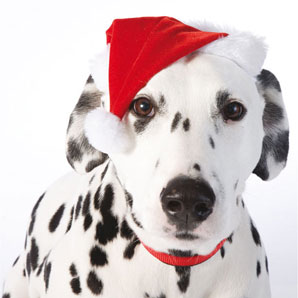 Many people take the opportunity to travel on vacation or out of town to visit family and friends. If you need to arrange for care for your pet in your absence, be sure to book well in advance. Thanksgiving and the holiday season are two times of the year when many boarding kennels and pet care specialists (dog-walkers, pet sitters) will be booked as far out at 6-8 weeks in advance. When you book your plane tickets, call your desired kennel or pet sitter to ensure your pet will be comfortable and happy during your absence. If your pet will be staying at a kennel, many reputable kennels have medical requirements such as proof of annual vaccinations and flea control. Talk to your veterinarian if you have any questions or concerns about whether your pet is up-to-date on their shots.
For those pet owners that will be in town, there are always some important safety tips to keep your pet safe and comfortable. If you are having a holiday party or family gathering, always make provisions for your pet. Some pets may be nervous around so many new people. If your pet is shy around new people, consider keeping your cat enclosed in a comfortable room or dog in their crate to keep them calm. Be sure to instruct any children how to interact with your pet, such as not picking up Fluffy or feeding Brutus. Know your pet and be sure to plan for them accordingly.
Keep people food out of your pet's reach, such as boxes of chocolate or popcorn that may be wrapped and put under the Christmas tree. Always monitor your pet around things such as hors d'oeuvres or snacks in case they try to help themselves. Check out this list of foods that can be harmful to your pet.
The holidays can be a busy time of year, so be sure to make provisions in advance to avoid getting caught short this winter season!
Categories
Testimonial
Three cheers for the volunteers!
Three cheers for the volunteers! Keep doing wonderful work, thank you!
Doreen
Sign up for news and updates
Thank you for joining our online community.