Provincial Dog Rehabilitation Centre gives deaf dog a second chance
by Ontario SPCA and Humane Society | Happy Tails | June 27, 2023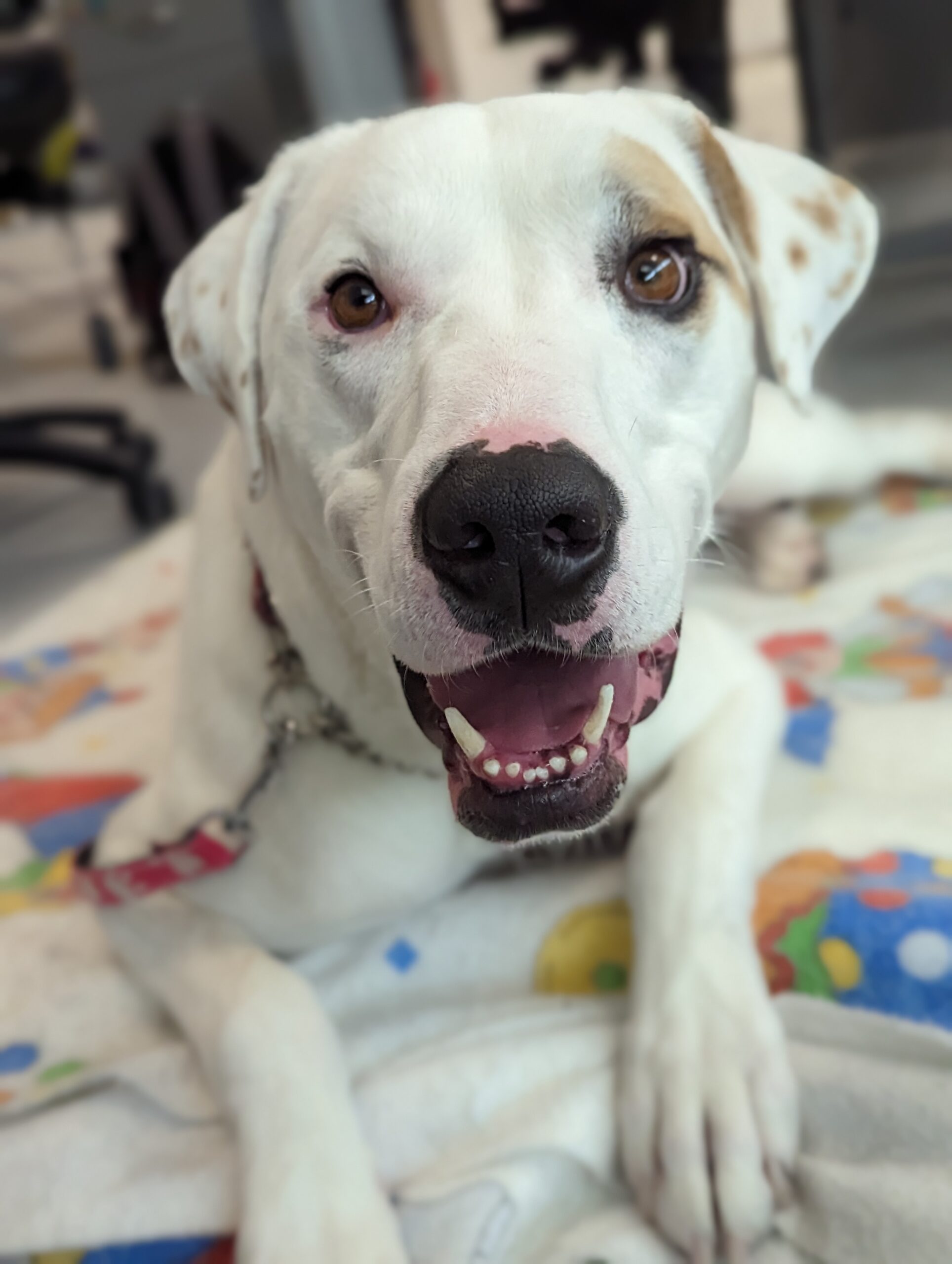 When Beam arrived at the Ontario SPCA Midland & District Animal Centre in September 2022 from a shelter that was at capacity and needed help finding him a home, it was clear he would need a special kind of TLC.   
Upon his arrival, Beam tested positive for tick borne illnesses (Lyme and Ehrlicha) and had to undergo a month of antibiotics. His physical challenges were only the beginning. Beam also needed help with his behaviour.    
As a deaf dog, Beam explores the world through his mouth. In addition to that mouthy behaviour, he lacked basic training and housetraining skills, as his hearing impairment made it difficult for him to learn these cues. Sadly, he was adopted and returned several times by adopters who found his behaviour too much to manage. 
With direction from Megan Holmes, Animal Behaviour Coordinator for the Central Region, the team at the Midland & District Animal Centre worked hard to provide the training Beam needed. They even started to teach him sign language. However, they eventually decided Beam required more one-on-one specialized behavioural support to allow for more decompression and speed his adoption process.  
To help Beam receive the care and training he would need to find a loving home, the animal care team sent him to the newly opened Ontario SPCA Provincial Dog Rehabilitation Centre in Peterborough. 
The perfect candidate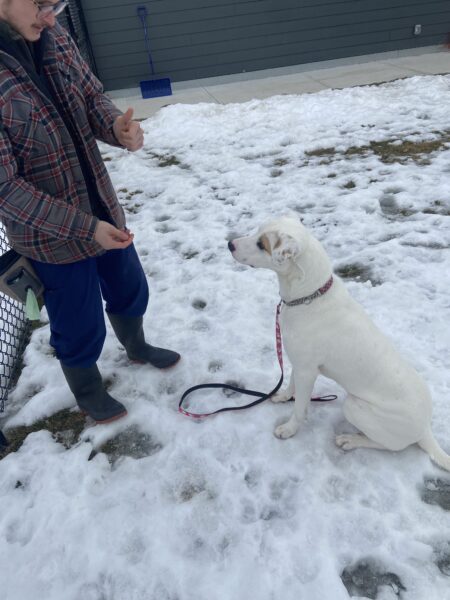 Beam was a perfect candidate for the new Ontario SPCA Provincial Dog Rehabilitation Centre and was one of the first dogs to arrive at the new state-of-the-art facility in Peterborough. Operated by the Ontario SPCA's Animal Behaviour team, the Provincial Dog Rehabilitation Centre supports dogs from animal centres across the province and has been custom built to help dogs who need more individualized care than a typical animal centre can provide.  
Some of the things the team focused on included introducing Beam to new environments, people, and things. They did this in a very slow and controlled way to desensitize and decrease his frustrations. 
"In situations where Beam was unsure, he would respond with frustration, fear and aggression," says Kassie Dickson, Animal Behaviour Coordinator with the Ontario SPCA and Humane Society.  
The team at the Provincial Dog Rehabilitation Centre also worked with Beam to introduce appropriate markers while training, such as a "thumbs up" to show him he's doing a good job. 
The first successful adoption from the new centre
Dogs at the Provincial Dog Rehabilitation Centre are made available for adoption as soon as possible, with foster-to-adopt options available to ensure the right family fit. In a few short months, Beam had made great progress and also drew the attention of a potential adopter.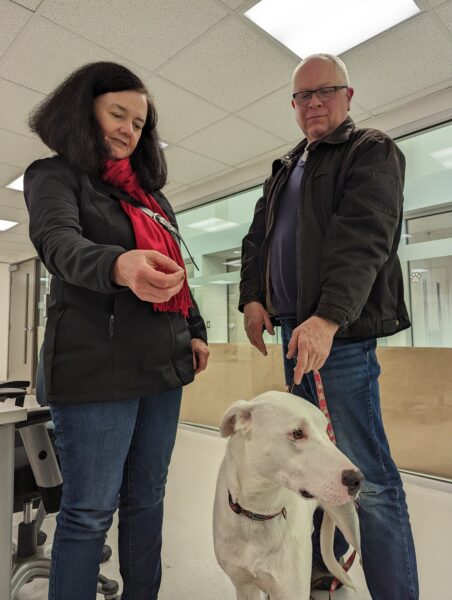 As it turns out, there was a family interested in adopting Beam before he was transferred out of Midland. When they saw him become available through the Provincial Dog Rehabilitation Centre, they knew it was fate. They reached out immediately and made the drive out to meet him. Beam was officially adopted on April 8, 2023, making him the first official adoption from the new centre. 
"So far, he has mastered everything around the house except the crate, but we are getting there. As far as we're concerned, Beam is a great example that all dogs are good and deserve a loving home," says Dennis, Beam's adopter. 
His new family is devoted to supporting Beam and his ongoing needs. Beam now has two new furry siblings and is learning to gain their trust and love. Since Dennis and his wife both work from home, they can give Beam all the attention and training he needs to thrive in his new home.  
Although the animal care team were sad to see Beam go, they were excited to see him find a home to give him the love and support he deserves.  
"Everybody really fell in love with him. He had such a quirky personality," Dickson says, "but we were all really happy to see him be in a home that has offered such amazing support for him as well. They've gone above and beyond to make sure his medical, physiological and psychological needs have really been met." 
Beam may have had a difficult start in life, but thanks to the Ontario SPCA Provincial Dog Rehabilitation Centre, he is getting a second chance.  
To join in the life-saving work happening at the Ontario SPCA Provincial Dog Rehabilitation Centre, please consider donating. As a registered charity that does not receive annual government funding, the Ontario SPCA depends on the generosity of donors to change the lives of animals in need.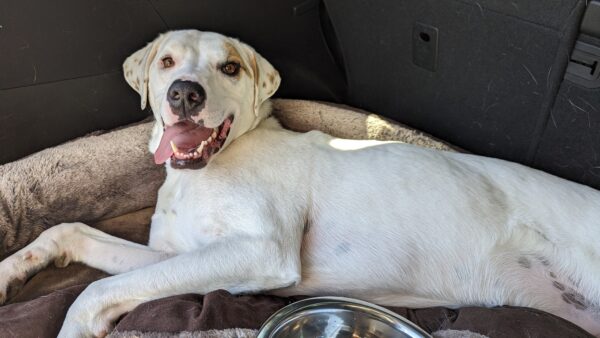 Categories
Testimonial
Hats off to you
To all kind-hearted and hard-working people at SPCA: hats off to you. I love animals and admire the work you do.
Kellie
Sign up for news and updates
Thank you for joining our online community.