Safe, Outdoor Adventures for Your Cat
by Emily Cook | Cat Care | June 25, 2010
I am not certain who coined the phrase "Catio" however it perfectly describes the newest fad to be hitting cat owners. A catio is an outdoor space (balcony, a space in your yard or on your deck) that is fully enclosed with mesh or wire and contains some creature comforts for your cat.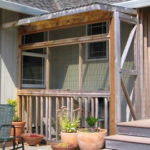 Catios are springing up all over country, and some pet companies have developed pre-made catio components that you can buy individually to create a habitat that is right for your cat.
Some catios are as simple as space on a balcony with a scratching post and some water right up to full-blown habitats that include climbing steps, secret hideaways, dangling toys and snuggly beds. What more could a cat want! The best feature about the catio is that owners can allow their pets the luxury of the outdoors without any of the risks. A catio is perfect for the cat who loves to adventure but may not be enough of an outdoor cat to return home safely. Catios can be created anywhere from the smallest balcony to the largest yard, and are only limited by your imagination.
While building your own catio may seem preferable (and cost effective), experience in woodworking or general building skills are required to ensure your cat has a safe and secure enclosure to roam in. Always perform regular inspections of your catio to be sure there are no gaps, protrusions or any sort of damage that could be harmful to your cat.
Catios are a great way to give your cat exposure to the outdoors in a safe and secure environment. There are a variety of catio styles to suit many situations, and with a little research you should be able to find one that suits your house and cat. To get a little inspiration, check out CatioShowcase.com to see what other cat owners have created for their feline friends!
Categories
Testimonial
Speaking for the ones who can't speak for themselves
Keep up the good work speaking for the ones who can't speak for themselves. A society who cares for their animals is a better society.  Thanks for your good work!
-Suzali
Sign up for news and updates
Thank you for joining our online community.