Shacking Up: Preparing your Doghouse for Winter
by Emily Cook | Dog Care | October 26, 2015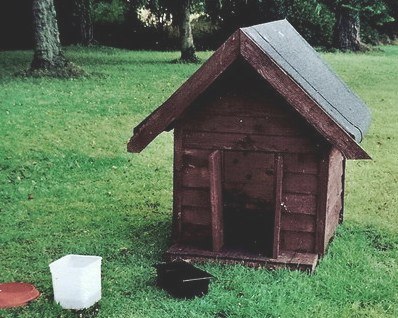 If you have yet to  notice, summer is quickly walking out on us, and leaving in its wake beautifully coloured trees, and frosty hands, inevitably leading us into winter.
If your dog spends a lot of time, or all of their time, outside during the winter, you need to be sure you have a suitable doghouse for them to be living in.
For more details on how to build a doghouse, you can see our post: The Ideal Doghouse. Keep reading for a summary!
To consider when building your doghouse
Finish the exteriors of the doghouse with weatherproof material or non-leaded paint.
You need to have bedding materials in the sleeping area, which needs to be changed every 1 to 2 weeks. We recommend straw over the blankets.
For added weather protection, use a burlap or canvas flap.
Make sure the house is elevated on bricks or cinder blocks, this will keep the floor dry.
As a pet owner, it is your responsibility to ensure your pet stays warm, during the winter months and all year round. If you keep your pet outside they need to have a proper and suitable dog house according to the Ontario SPCA Act, all year round.
For more information on the ideal doghouse, as well as instructions on how to build the perfect housing for your outdoor dog, read our Ideal Doghouse brochure or our blog post Ideal Doghouse.
Additional tips on keeping your pets safe during the cold winter months can be viewed online at www.ontariospca.ca.
Categories
Hats off to you
To all kind-hearted and hard-working people at SPCA: hats off to you. I love animals and admire the work you do.
Kellie
Sign up for news and updates
Thank you for joining our online community.