SPCA Certified program launches in Ontario
by Emily Cook | News | June 9, 2015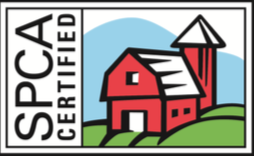 In Ontario, we like to enjoy locally grown foods and products that are farmed right in our communities. In an exciting move for Animal Welfare, the SPCA Certified program is coming to Ontario!
The SPCA Certified program is a third-party farm certification and food labelling program dedicated to improving farm animal welfare in Canada. Harley Farms became the first Ontario farm certified in the program in 2014, and with the program's official launch in the province, we hope other farms will enrol in the program.
Farm animals can benefit greatly from the program. Some of the certification criteria includes improved animal housing, feed and water, transport and handling, and more. Consumers that purchase food grown and produced on SPCA Certified farms will know the farmers have exceeded national Codes of Practice in farm animal care.
The Ontario SPCA is pleased to have our Livestock Inspectors attending the official launch event on June 5, 2015. We would like to congratulate the BC SPCA for this excellent initiative, and we look forward to supporting it in the province of Ontario!
Categories
Testimonial
Thank you for your dedication
Thank you for your dedication to helping the animals.  Every animal deserves a loving home and to be treated royally.  Just imagine a day without animal cruelty.  What a wonderful day that would be!
-Joan
Sign up for news and updates
Thank you for joining our online community.