SPCA Mobile Animal Wellness Services Q&A
by Ontario SPCA and Humane Society | Interesting News | January 18, 2022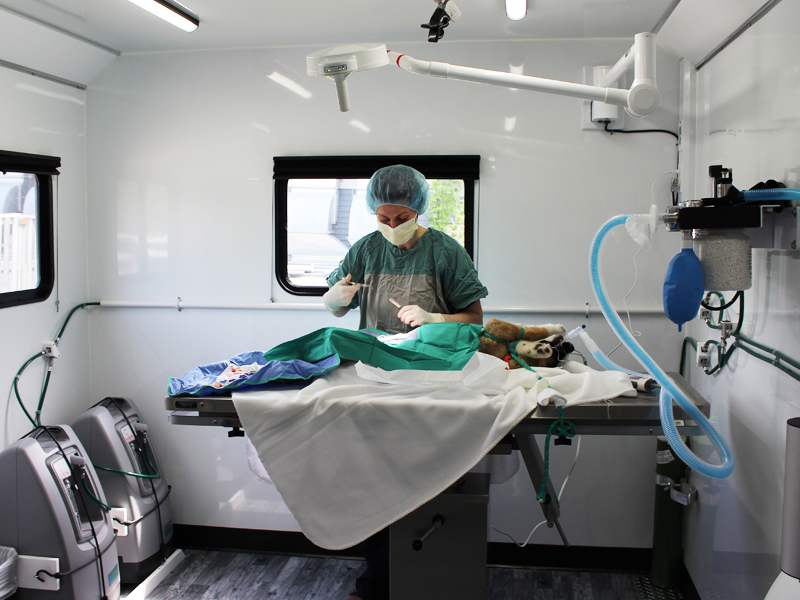 To help reduce pet overpopulation across the province, the Ontario SPCA and Humane Society has rolled out a mobile spay/neuter unit, made possible thanks to a grant provided by the Pet Valu family of stores through its Giving Back Project.
How does it work?
In this blog post, we're laying down the facts to answer all your questions about SPCA Mobile Animal Wellness Services:
Q: How do you decide where the mobile spay/neuter unit will go?
A: We are approached by communities where there is a need to make accessible spay/neuter services available to pet owners who might not otherwise be able to access the services. We will also have the capacity to partner with municipalities to address existing pet overpopulation issues, such as stray or feral cat overpopulation.
Q: Who is eligible for the clinic and how are they chosen?
A:  Our mobile spay/neuter services are targeted to help underserved people and their pets. We work with municipalities and local social support services in the community to help disadvantaged pet owners.
Q: Is the mobile unit licensed?
A: The mobile spay/neuter unit is accredited, and the staff are licensed veterinarians and registered veterinary technicians.
Q: How much do the services cost?
A: For a list of prices, please visit ontariospca.ca/mobileservices
Q: What does high volume mean?
A: The Ontario SPCA's spay/neuter services are high volume, self-sustaining clinics that are open to the public, shelters and rescue groups, regardless of geography or income level. As a non-profit organization, our spay/neuter clinics are designed to financially break-even.
Q: What services are offered in the mobile unit?
A: We offer spay and neuter services, as well as microchipping and vaccinations.
Q: How does this service work with local veterinarians?
A: Statistics indicate that the majority of people who access these type of spay/neuter services do not have a relationship with a veterinarian. This is an opportunity to educate families with animals about pet care and the importance of having a regular relationship with a local veterinarian.
By bringing this mobile clinic to communities where it's needed most, we are making these spay/neuter and wellness services more accessible. The service is not intended to replace veterinary care, but to provide a basic service to allow pet owners to spend their resources on routine preventative care.
Q: What other ways does the Ontario SPCA help address pet overpopulation?
A: Each cat and dog that is adopted from an Ontario SPCA animal centre is spayed/neutered, microchipped and vaccinated.
The Ontario SPCA also operates its own high volume spay/neuter services, with locations in Newmarket and Stouffville. To date, over 100,000 spay/neuter procedures have been performed.
To learn about the criteria your community has to meet to be considered for the mobile unit, visit our website. For more information about our service or on becoming a host in your community for the spay/neuter program, contact mobileservices@ontariospca.ca.
Categories
Testimonial
Speaking for the ones who can't speak for themselves
Keep up the good work speaking for the ones who can't speak for themselves. A society who cares for their animals is a better society.  Thanks for your good work!
-Suzali
Sign up for news and updates
Thank you for joining our online community.