Staying active with your pet during lockdown
by Ontario SPCA and Humane Society | General Pet Care | February 4, 2021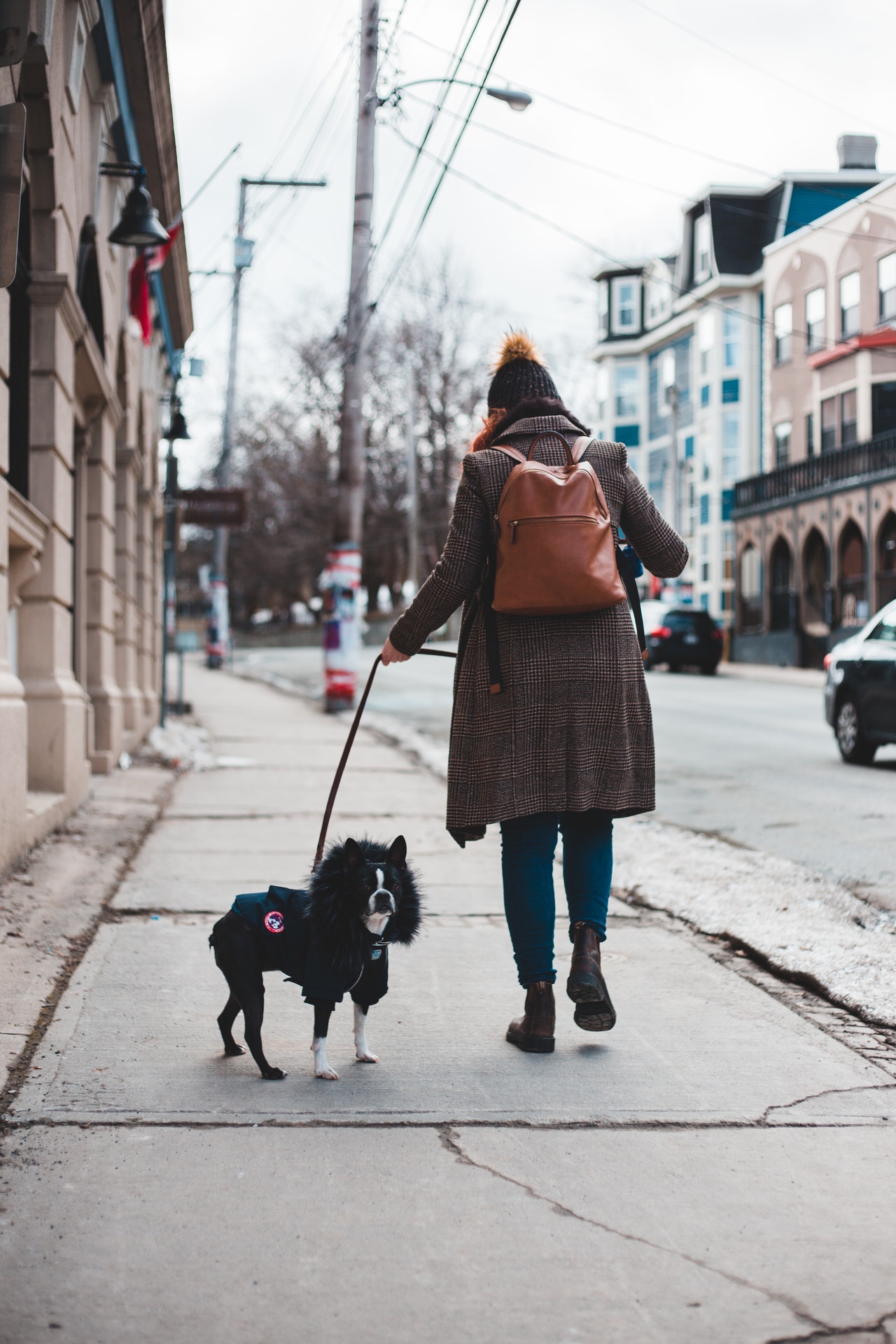 With the provincial government's stay-at-home order in place for most of Ontario, you may be looking for ideas on how to exercise your pets while maintaining physical distancing. Here are a few of our tips for exercising with your pets in the winter!
Go for a walk in your neighbourhood
If you live in an area where you can physically distance while walking in your neighbourhood, that's a great place to start! If there isn't enough space where you live, find a nearby park or trail you can drive to (make sure to check if they have any special restrictions during the lockdown).
If you're working outside the home and can only walk your dog in the evening, you may want to invest in a product that will increase your visibility, such as light-up collars and leads, or gear with reflective strips.
Winter weather precautions
Although you may be eager to enjoy as much time out of the house as possible, it's a good idea to limit the length of time your dog walks when the winter weather is severe. Choose a walking route that loops past your house in case you or your furry friend get cold and need to come in early. An ideal route will also offer some protection from the wind.
You'll also want to make sure your dog is always on a leash during your walks. This will safeguard your dog from becoming separated from you in bad weather, and protect them from dangers like roads, bodies of water that may not be fully frozen, and even other dogs.
Make sure you check your dog's paws regularly to look for signs of dryness, cracks or irritation. Check out our post on winter paw care for more information on protecting your dog's paws.
Find a local hiking or walking trail
Ontario is blessed with lots of walking and trail space, you just need to know where to look! Research your region and see what local trails are available for you to visit with your canine friend. AllTrails is one example of a website that offers information on different hiking trails in Ontario. Always check first to ensure there are no restrictions before heading out on a trail.
Indoor activities
To make sure your dog meets his or her regular exercise requirements, you can supplement your walks with some fun indoor activities.
The Find It Game: Show your pup his or her favourite toy or a tasty treat, then say "find it!" and toss it somewhere on the ground. Challenge your dog by throwing it slightly further each time, or play a variation where you ask your dog to stay, then hide the prize somewhere in the room or toss it in another room. Release your dog from the stay command and let the game begin!
Playing hide and seek with your dog is a great way to review the sit, stay, and come instructions. Ask your dog to sit and stay in one room while you hide in another room. When you're ready, ask your dog to come and reward your successful dog with either praise or a treat. Watch our videos on how to teach sit and stay.
Interactive toys can be really useful to keep your dog busy and enriched! Learn more about taste/oral enrichment for your dog here.
Use your extra time at home to do some training with your dog! Visit our shelterhealthpro.com website for training tips.
We hope these activities help you stay active and healthy during this time!
Categories
Testimonial
Dogs only ask for your love and attention
Dogs only ask for your love and attention, nothing else. Thank you for everything you do!
Christine
Sign up for news and updates
Thank you for joining our online community.