Taking Your Dog to Work
by Emily Cook | Dog Care | November 21, 2014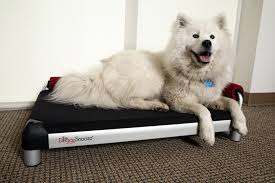 With more workplaces stressing the benefits of balancing home and work life, pet-friendly offices are becoming more commonplace. While nothing could be better than having your best friend at your side all day, you still need to make sure your pup will be safe and comfortable in its new environment, while ensuring minimal distraction to others.
Here are some tips to consider before taking your dog to work:
Home base
Before bringing your dog to work, your dog should have an area to call its own. There should be a dog bed/pillow next to your workspace and some familiar items from home (e.g., a favourite blanket or noiseless toy). Show your dog to its area instead of letting your dog pick an area for itself, so that you discourage territorial behaviour.
Pack necessities
In addition to the items mentioned above, you should also pack necessities like dog bowls, leash, ID tag (worn at all times), paper towels and pet-friendly stain remover. If you have your own office, you may want to bring a portable baby gate to prevent accidental escapes.
Supervise your dog
Your dog should always be on a leash, or if you have an office, kept behind a closed door. This protects your dog from wandering into potentially unsafe areas like the photocopy and storage rooms; rooting around the kitchen or in people's waste bins; playing too hard with other office dogs; or distracting your coworkers. You can still let your dog greet people by taking your dog around in the morning to say hello to your coworkers and other dogs.
Give your dog a workout
It's important that your dog gets a good workout before you enter the office. If your walk to work is short or if you drive to work, consider using a dog backpack for your morning walk to help tire your pup out. Don't forget to walk your dog throughout the day and to block off that time in your calendar.
Safety
Make sure your workspace is free of any hazards, like cables, office supplies within reach, breakables,toxic plants and garbage containers.
Final considerations
Not all dogs love being at work. If your dog gets stressed in new settings, you may want to leave your dog with a sitter or daycare service, or you can try gradually introducing your dog to the office on half days.
Likewise, not all people feel comfortable around dogs. Make sure you ask in advance whether anyone is allergic to dogs or feels uncomfortable around dogs, and work to accommodate their needs (e.g., you may need to swap work stations for the day if they sit nearby).
Dogs that shouldn't come into the office include dogs that aren't familiar with basic commands (sit, stay, come), do not have current vaccine protection, have been microchipped, don't enjoy being around other dogs, and dogs that aren't feeling well or are recovering from surgery.
Most importantly, be sure to check your office policy on bringing animals to work and prepare accordingly before your pet makes it first trip to the office.
Categories
Testimonial
For every animal you save
For every animal you save, every animal who feels loved in their last moments, and for everything else you do; thank you and God Bless.
-Stephanie
Sign up for news and updates
Thank you for joining our online community.