The heartwarming stories we need right now
by Emily Cook | Interesting | March 20, 2020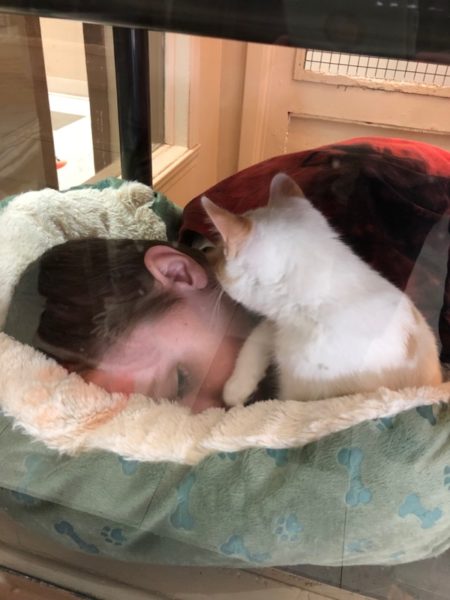 With news changing rapidly, and so much uncertainty in the world, we wanted to pull together a few heartwarming stories for you about the human-animal bond. In the midst of everything going on, we hope these stories bring some levity and joy to your situations.
Stories of hope – stories of happiness
Animals help boy find joy again after sudden loss of his father
"He will never have his father back in a physical sense and he was very, very angry. He felt abandoned," Craig says. "I was there every Tuesday, the dogs were there every Tuesday and he discovered that those dogs, too, were abandoned. They were rescued and they're still joyful. They want to go out for their walk. They want to be outside. They want to live."
As part of a pilot project, the Animal Centre has started welcoming local senior retirement centres to spend time with cats waiting to be adopted. It not only gives the cats the social interaction they need, but it also gives the seniors an opportunity to get out in their community and meet new friends – both two- and four-legged.
Katie, a cat with hyperthyroidism, was surrendered to the Ontario SPCA Provincial Education & Animal Centre in April 2018, at 10 years old. Her age, along with her health condition, meant many adopters passed her by. She was waiting in the animal centre for five months before she met Glenn.
"When people ask me, why did you adopt such an old cat? I always tell them, 'I didn't think compassion had an age limit,'" says Glenn.
---
If you have a heartwarming adoption story, we'd love to hear it! Message us on Facebook, Twitter or Instagram. You can also tag us in your Instagram posts using #ospcainsta for a chance to be featured on our socials, or blog.
We hope these stories filled you with all kinds of happiness, or at least some smiles in the midst of everything happening in the world right now!
Categories
Testimonial
Dogs only ask for your love and attention
Dogs only ask for your love and attention, nothing else. Thank you for everything you do!
Christine
Sign up for news and updates
Thank you for joining our online community.