The No Hot Pets Campaign Gets a New Partner
by Ontario SPCA and Humane Society | Campaigns | July 22, 2015
The Ministry of Community Safety and Correctional Services and the Ontario SPCA urges everyone to keep their pets cool and safe this summer with the No Hot Pets campaign.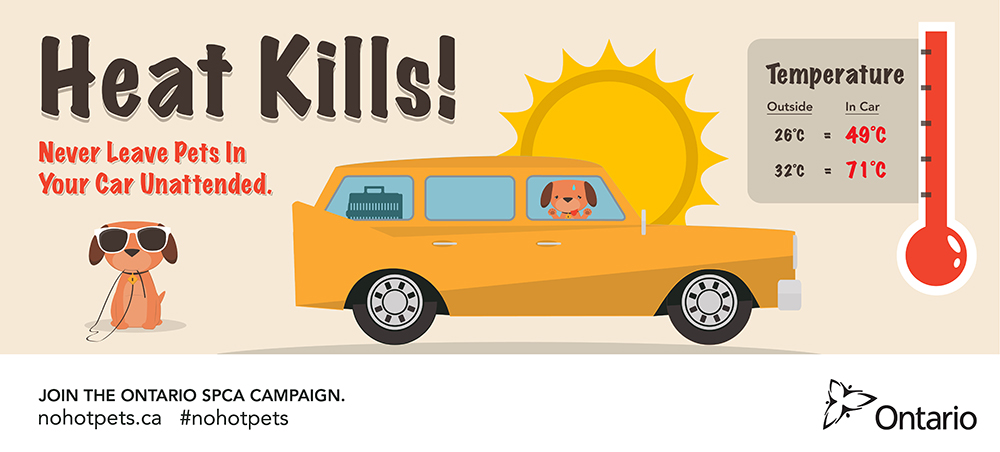 Each year the Ontario SPCA receives hundreds of reports of animals left unattended in parked vehicles. Remember when driving with your pet that your they need to go with you when you leave the car. Otherwise leave them in the cool, safe, and comfortable house.
On a hot day, the temperature inside your vehicle will quickly become much hotter than the temperature outside. When your pet is left unattended in a hot vehicle, it's not just uncomfortable for them — it's life threatening.
Dogs in particular have very limited ability to sweat. Even a short period in a hot environment can cause suffering and distress and could result in brain damage or death.
This summer, take the Ontario SPCA #nohotpets pledge to not leave your pet in a vehicle. You can also help spread the word by tweeting with the #nohotpets hashtag. Help us make sure there are no hot pets this summer!
If you see an animal in an unattended vehicle that appears to be in distress, act quickly and report it to the Ontario SPCA and Humane Society.
Categories
Testimonial
Hats off to you
To all kind-hearted and hard-working people at SPCA: hats off to you. I love animals and admire the work you do.
Kellie
Sign up for news and updates
Thank you for joining our online community.