Tips to keep your dog warm on winter walks
by Ontario SPCA and Humane Society | Dog Care | December 29, 2022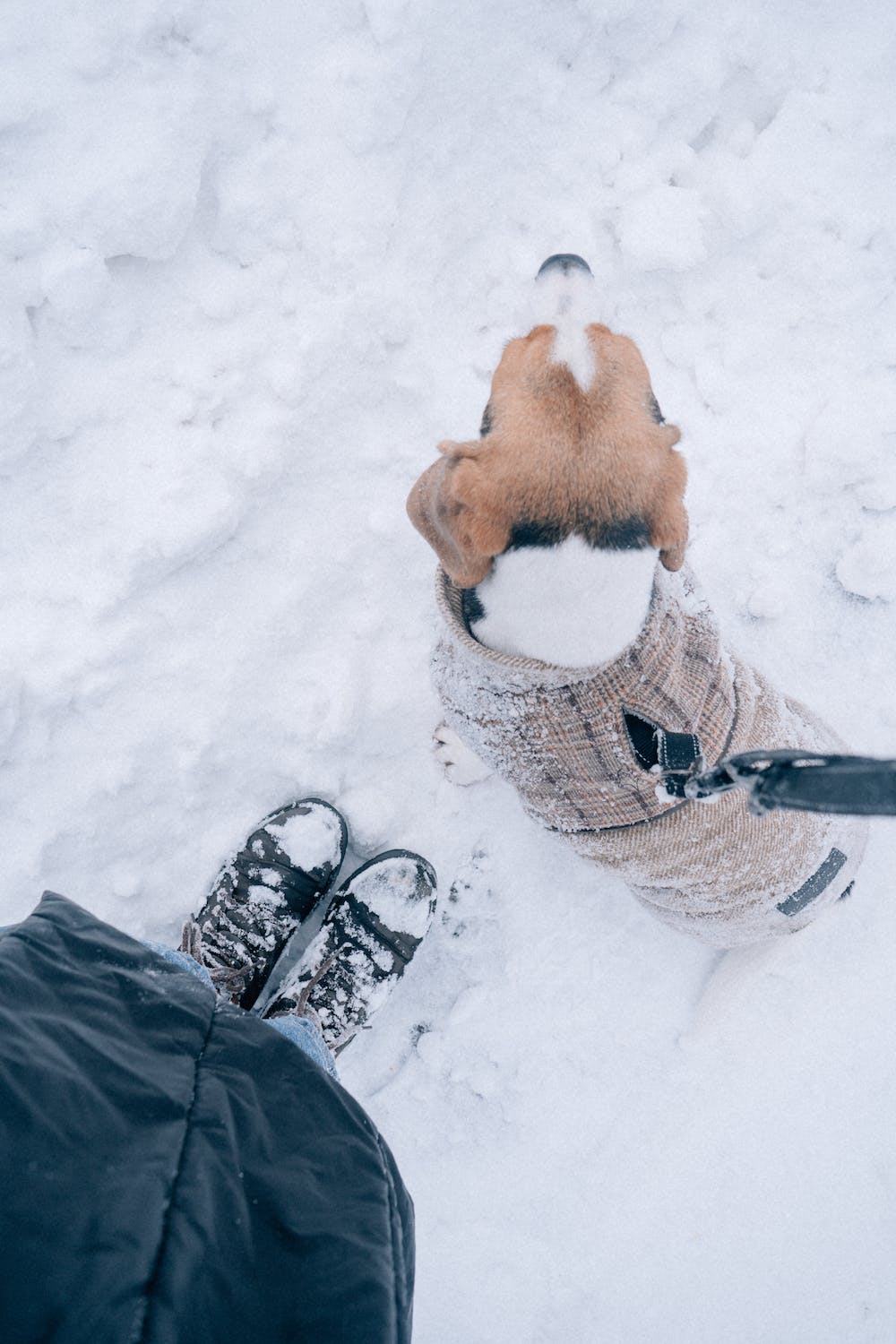 Walks can be the best part of a dog's day, but with temperatures low in the winter time, how cold is too cold for your dog? 
Some dog breeds, such as a Husky, Malamute, or Newfoundland dog, may be pretty comfortable in colder temperatures, but this isn't the case for all dogs. There are many breeds that aren't as prepared for cold weather. Cold tolerance also varies between individual dogs, regardless of breed. Health conditions and the age of the dog – young and elderly animals are more susceptible to the cold – can also impact how well they handle colder temperatures. 
Needless to say, it's important to take extra precautions in the cold. Some signs to watch for that indicate your dog is cold include holding their paws up, walking with their shoulders hunched, or shivering. If your dog is showing any of these signs, they need to be provided with a warm place to escape the cold. Some dogs can also benefit from wearing winter gear when they go outside.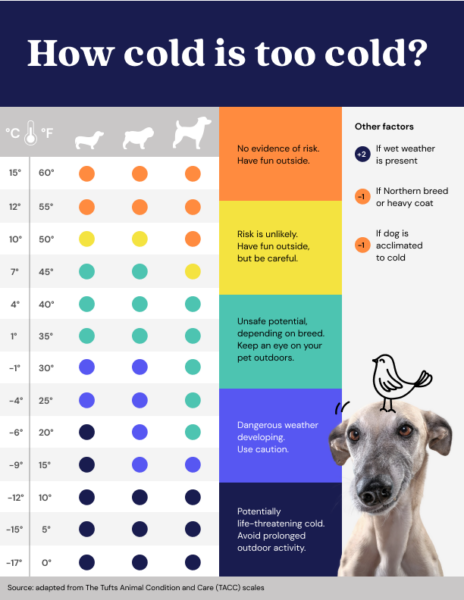 Dog coats and boots – does your pet need them?
Dogs with short hair, such as Boston Terriers or Chihuahuas, are examples of dogs that may need to bundle up during the winter months. Slender dogs are also more susceptible to frigid temperatures due to their lack of body fat or muscle mass. 
The cold winter weather can make our furry friends susceptible to dry skin and cracked footpads. It can be helpful to have a humidifier going in your home. Check out our do-it-yourself pet safe paw balm to make at home here.  
For more information and support tackling dry skin, read this blog.  
Another key piece of winter gear for your dog is boots. Boots aren't just for small dogs or dogs with short hair. Even bigger, long-haired dogs can have painful ice balls form under their feet. It's also important to remember that your furry friend may be exposed to salt and ice-melting chemicals, which they could ingest when they lick their paws. 
It's important to buy the correct sized boots for your dog. You can do this by measuring the widest part of the dog's foot and then measuring it against the size of the boots. When you put them on, make sure to avoid getting your dog's hair or skin caught in the zipper. 
If boots are new to your dog, it is also important to make it a positive experience for them. It is important to introduce new things slowly, and with lots of positive reinforcement. Starting by rubbing your dog's foot with the boot, and getting them used to the scent, from there you can begin introducing your furry friend to wearing the boots for short periods inside, with lots of treats. 
Here are a few more quick tips to keep your pooch safe this winter:
Keep antifreeze out of reach of animals; even a small amount of antifreeze can be fatal. If you need to buy antifreeze, look for pet-safe brands.

 

Use pet-friendly ice melter to prevent burns and accidental poisonings.

 

Keep your dog on a leash during walks, especially in winter. With reduced visibility, and potentially unsafe bodies of water, keeping your dog on leash keeps them safe and prevents them being lost in the event of poor weather conditions. As well, icy roads mean cars cannot stop as fast if a dog runs into the street.

 

Keep wind, storm and frostbite warnings in mind when making decisions about walks. As the temperature drops it may be better to go on multiple short walks instead of one long one.

 
Were these tips helpful? Share this blog with your friends and help spread the word about cold weather tips for healthy companion animals. 
Categories
Testimonial
Dogs only ask for your love and attention
Dogs only ask for your love and attention, nothing else. Thank you for everything you do!
Christine
Sign up for news and updates
Thank you for joining our online community.