Top 5 Pet Gear Picks for Winter
by Ontario SPCA and Humane Society | General Pet Care | January 6, 2016
If you live in Southern Ontario, you know that the weather has been mild. But the cold has certainly arrived now in full force! Just like people, some pets enjoy the winter weather more than others. Check out our top pet gear picks to keep your pet happy and healthy this winter!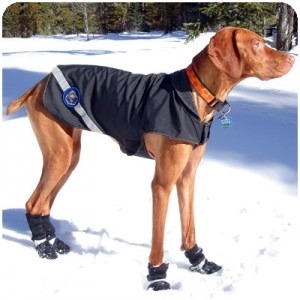 Paw boots. Salt can be extremely irritating to a pet's sensitive paw pads, and sharp bits of snow and ice can injure your pet's feet. Keep your pet's feet warm and dry with boots specially designed for canine paws. A boot that is waterproof and can be securely (but not too tightly) fastened is a good choice. Introduce the boots slowly over a few days to get your pet used to their new paw-wear!
Reflective leash and collar. With sunshine being at a minimum in the winter months, consider a leash and/or collar that is either lit up or reflects light. Those early morning and late evening walks will be much safer for you and your pet when you are more visible to drivers and other pedestrians.
Winter coat. Some dogs like Huskies and other nordic breeds may not feel the cold as much, but short-haired or sensitive canines will appreciate an extra layer during walks! Dog coats with reflective strips and waterproofing will keep your pet easily visible and protected from the cold winter wind during walks.
Chew toys. Just like people, pets can be prone to boredom when the weather gets cold, dark and wet! New chew toys or  dog bones stuffed with pet-friendly treats can keep your pet busy when you're both stuck indoors.
Cozy sleeping quarters. Take into consideration your pet's age, breed and living conditions. A puppy or elderly dog who lives inside may appreciate a heated dog bed.
The winter weather can be a great time to enjoy playing outdoors in the snow, or cuddling up inside on the blistery wet evenings. With the right pet gear for winter, you can be sure to enjoy a wonderful winter season with your pet!
Categories
Testimonial
As an animal lover all the work you do
As an animal lover all the work you do to help ensure that every dog and cat can find their forever home that is filled with love is greatly appreciated.
-Louie
Sign up for news and updates
Thank you for joining our online community.