Training tips for your pet: Tools to get you started
by Emily Cook | General Pet Care | March 12, 2020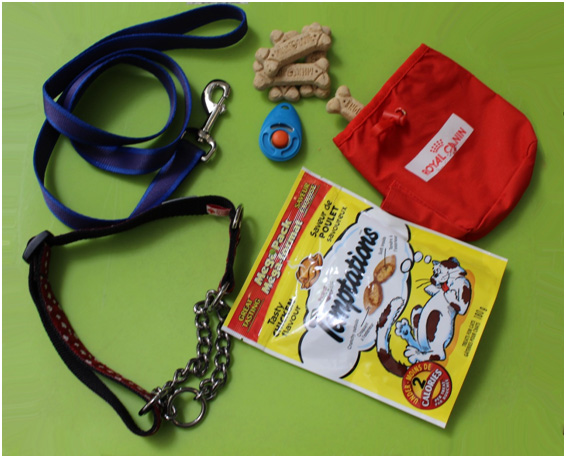 March Break is coming up fast. Now is a great time to plan some activities with your pet – including training! To help get you started, here are some tips on tools and equipment from our Shelter Health Pro website.
Tools & Equipment
Gather tools and equipment appropriate for the species you are working with. Such items could include:
Treat pouch
Food rewards
Clicker
6ft leash (a six-foot leash is essential for dog safety when teaching loose-leash walking)
Longer leashes can be used for other animals such as cats, ferrets, and rabbits
Flat buckle collar or Martingale collar (for dogs who tend to back out of their collar.

Most animals will respond to food as a reward. Many will also respond to clicker training.

Other options used specifically with dogs such as the Gentle Leader®, the Halti®, or walking harnesses, require conditioning to the device (which takes patience and time), and can be difficult to use correctly. They are designed to be used as behaviour management tools, and not as training aids. If used incorrectly they can have harmful rather than positive results.
Treat Pouches
Treats are an effective reward for most animals. For training purposes, always have treats on hand. There are a variety of treat pouches available at varying costs, but perhaps the least expensive and most convenient solution is the nail apron sold by home improvement stores. These aprons are very inexpensive and work great in a shelter environment.
Visit our Shelter Health Pro website for more information on each of these training tools. You'll be training your pet in no time!
Shelter Health Pro
Shelterhealthpro.com is a free online resource created by the Ontario SPCA and Humane Society to give both shelter professionals and pet owners the tools and information they need to help keep the animals in their care physically, mentally and emotionally healthy.
If you have an animal at home or work with animals, you owe it to them to visit shelterhealthpro.com.
Categories
Testimonial
Three cheers for the volunteers!
Three cheers for the volunteers! Keep doing wonderful work, thank you!
Doreen
Sign up for news and updates
Thank you for joining our online community.