Update on Bambi
by Laura Therrien | Happy Tails | July 2, 2013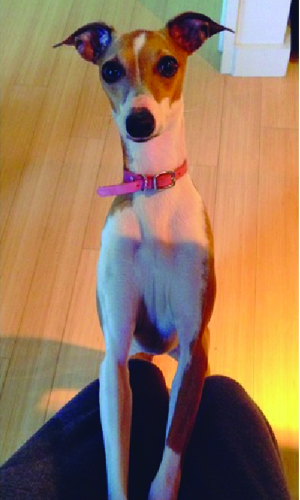 Bambi was one of the Italian Greyhounds that came from a large removal.   Thanks to Charlotte and her family she is now living a happy and loving life after being adopted from the Ontario SPCA Provincial Education & Animal Centre.  We were so happy to receive this update on Bambi.
The girls renamed her Bambi, but no matter what you call her she is an extremely good natured, sweet, happy dog, and so darn cute. She fits in here nicely, so amazingly easy going with everything and everyone – all family members, cats, noise, the new environment – all except walks, but that's only because the cars driving by scare her a lot. 
Since the girls and I are home all day, the house training has not been a problem so far (basically we don't take our eyes off her).  She is very much a typical Italian Greyhound(IG) and loves to cuddle and to be cozy. I made her a little sweater – it is a must for IGs to wear a sweater when it gets cool or rainy so that going outside doesn't become a problem.
Some things are obviously new to her, like sliding patio doors, screen doors, and the pool. Within the first hour after bringing her home she had 'fallen' in the pool twice!  But Aaren was right there to 'rescue' her of course. Bambi now understands what that great watery abyss is and she has NOT jumped in a third time!
She somehow knew right away that some of the best things in life come from the kitchen and she is an expert beggar. She's pretty fearless around the house and very curious so I wouldn't be surprised to find her on the kitchen counter one day! (we'll hope not though!) 
Anyway, thanks again for the great service you are providing. We are thrilled about our new little girl and so glad that she now has the chance to live out the rest of her days running in the grass, and lying on comfy beds, with nice things to chew like freeze dried chicken feet and beef livers! Maybe we should have named her Spoiled Rotten!
Charlotte
Categories
Testimonial
Thank you so much for all you do
Thank you so much for all you do every day to rescue animals in need. I can't imagine the terrible situations that you see every day.  It is great that you have the heart to help. Keep up the good work.
-Betty
Sign up for news and updates
Thank you for joining our online community.