Update on Heidi
by Laura Therrien | Happy Tails | August 19, 2013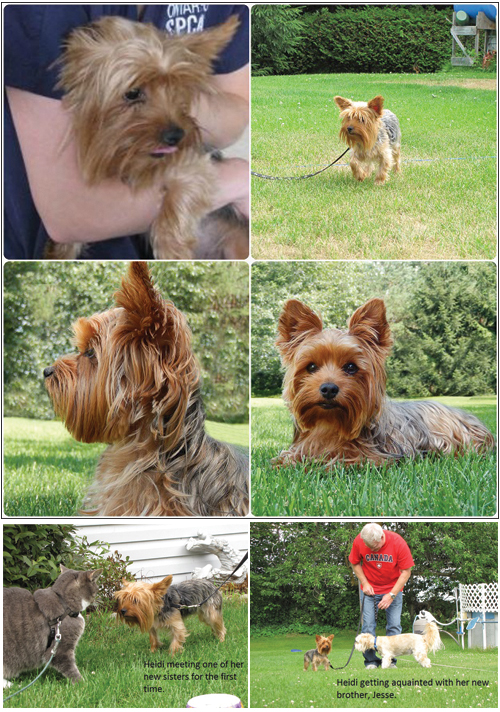 It's been two years that Heidi has been living in her forever home.  And we are happy to hear she is doing so well.  Tammy and Kerry her new family have recently sent us this update that we wanted to share with our supporters.
"I thought I would write to give you an update on a dog we adopted from the Ontario SPCA Stormont, Dundas & Glangarry Branch just over 2 years ago.  We adopted Heidi, who was previously Tinkerbell, on June 30th, 2011.  We were told she was rescued from a puppy mill situation. 
I have attached a photo collage showing Heidi as you had her posted on your website, on her first day we brought her home and some recent shots of her.  As you can see from the photo's she put on a few pounds and has blossomed into a real beauty! 
When we first brought Heidi home, she was very timid and scared.  She had no idea what "playing" was all about.  When we would reach to pet her, she would cower and she was not house trained.  Heidi's rehabilitation has been so rewarding for us to participate in.  It took about 6 month for her to begin to roll over for a belly rub when we reached to pet her, instead of to cower in fear. She is now about 99.9% housetrained, as she only has the rare, odd accident now.  She still has not grasped the concept of chasing a ball, as I suspect she was never given the opportunity to do so or to play with toys before we got her, but she now will play for short periods of time with us and she loves to chase and play with her brother (dog), Jesse. On occasion she thinks it's great fun to chase her two feline sisters, but for the most part, she enjoys having them around. 
When we leave the house, even for a short time, I fear she will explode with excitement when we return.  The first time I dropped her off at the groomers, after returning to pick her up 30 minutes later, I was told she had a panic attack and passed out.  I now stay with her while she is groomed and she does great, as long as she can see that I am still there with her.  At night, she curls up in her kennel, placed right beside our bed and never says a peep until the morning.  She has become my little shadow and I know I always have to look down before I move as not to step on her because she is never too far away. 
Heidi still has some deep rooted issues we are working on and even after having her for over 2 years, we still see her making progress in her path to recovery from her past.  Heidi has become such a valued member of our family.  We all absolutely adore her.

Thank you for all the work you do and for allowing us to have this beautiful little girl in our lives."
Tammy & Kerry
Categories
Testimonial
We have supported the OSPCA since 1951
We have supported OSPCA since our arrival in Canada in 1951.  Keep up the greatest  T.L.C. for animals.
-Paul & Des
Sign up for news and updates
Thank you for joining our online community.