Update on Maxi
by Laura Therrien | Happy Tails | April 17, 2013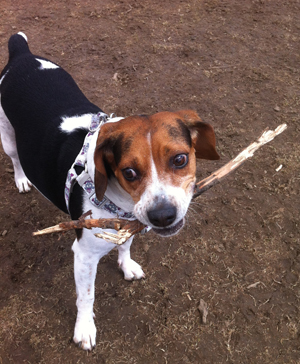 Maxi a cute little beagle mix that came to the Ontario SPCA Provincial  Education & Animal Centre (PEAC) found her loving home with Deborah and her family.  Here is an update on Maxi in her new forever home:
Maxi is doing great, and we are so happy to have her in our family. She had zero adjustment time, and fit right in immediately. An hour after coming home she was already up on the couch between our two boys, relaxing while they played video games. And, she gets along fine with our cat, even sharing water bowls and sleeping in the bed together. Maxi's favourite thing is visiting the off-leash park to run and play with the other dogs.  And she prefers to sleep at night with our 7 year-old in his bed.
Oh! And we haven't changed her name. Since she spent 4 years with that name and knows it means her, we didn't think it would be right to make her learn a new one.
Special thanks to all of you for bringing her into our lives!
Cheers, Deborah
Categories
Testimonial
Thank you for your dedication
Thank you for your dedication to helping the animals.  Every animal deserves a loving home and to be treated royally.  Just imagine a day without animal cruelty.  What a wonderful day that would be!
-Joan
Sign up for news and updates
Thank you for joining our online community.