Update on Morris and Cheech
by Laura Therrien | Happy Tails | February 27, 2013
Another happy ending for both Morris the cat and Cheech the dog who were both adopted into a loving family.  Here is what there new family has to say: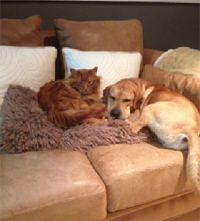 Morris has adjusted to his new family very well!  Everyone adores him and he gets lots of attention not only from us but from his new dog friends (Cheech who we also adopted from the SPCA the same week) and Ice who is our Husky and whom we adopted from the SPCA 5 years ago! 
If you are looking to adopt, have a look at our Ontario SPCA communities for ab adoption centre near you.
Categories
As an animal lover all the work you do
As an animal lover all the work you do to help ensure that every dog and cat can find their forever home that is filled with love is greatly appreciated.
-Louie
Sign up for news and updates
Thank you for joining our online community.