Update on Panzer
by Laura Therrien | Happy Tails | December 10, 2012
Thank you Kyla for sharing this wonderful story with us.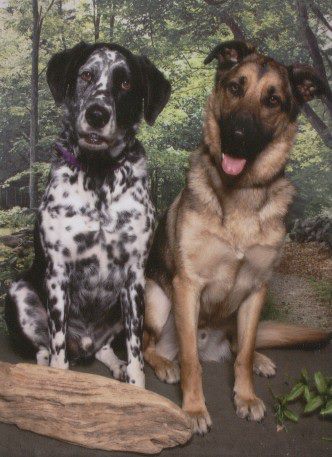 "I was just thinking about the Ontario SPCA because it was 8 years ago today that I got my dog, Panzer from the Newmarket location.
I had gone in the previous week, "just to look around." I went in 10 minutes before closing so I wouldn't have time to fall in love (yeah, right!).
As I was leaving, I heard a door close behind me. I didn't think anything of it. Then I felt a cold, wet nose nudge my hand. I looked down and there was this beautiful Shepherd mix. A volunteer by the name of Ruth was taking him out for a walk. I had started to ask questions about him. She told me his story. When she found out that I had a history of dog training, she really encouraged me to take him. I told her that I would have to have him meet my other dog, Kirby, and if all went well, he had found a new home!
They sniffed each other. Looked at each other. And then Kirby got into a play bow. The rest, as they say, is history.
Thank goodness nobody told Panzer that dogs don't generally get to pick their people because he did. If he hadn't have nudged my hand, I would never have seen him. He's been such a blessing and a joy in our lives."
Kyla
Categories
Testimonial
I stand behind SPCA with my monthly gift
I stand behind SPCA with my monthly gift. I am so happy there are folks like you to care for those who can't help themselves.  My family and I have had animals all our lives and know what a comfort they are.  Thank you SPCA.
-Dorothy
Sign up for news and updates
Thank you for joining our online community.