Update on Pepper
by Laura Therrien | Happy Tails | November 13, 2012
Thank you Maria for providing this wonderful story on Pepper (previously known as Kane)!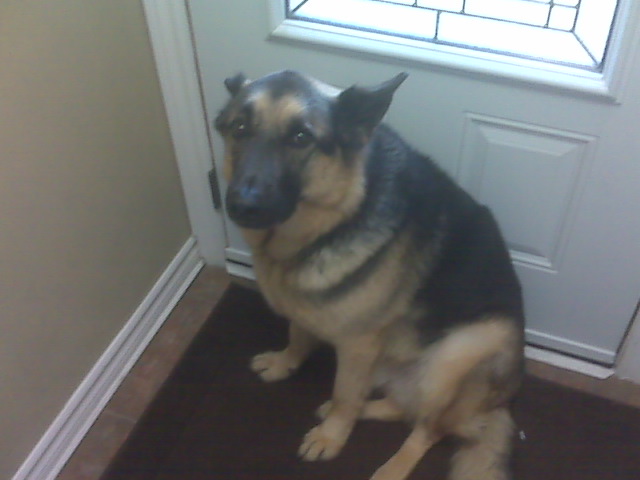 "Back in the summer of 2006 my kids and their dad went to donate our late German Shepherd's food from our beloved family pet, Magic.  She had been with us for almost 12 years and we loved her dearly.  Donating her food to the shelter was our family's way of helping at the time.  We had made arrangements with the same breeder for another dog as we had an amazing experience with her.  But when the kids brought the food in they saw "Kane" in his crate.  He was a young pup, maybe 9-10 months old, that was found wandering the campgrounds in Parry Sound, and so clean and bright.  His teeth were amazing.  The kids and their dad asked to visit with "Kane" for a few minutes, and he came right over to them when asked.  My eldest son asked him to sit and stay and he did on command.
We never did go back to the breeder for the dog we had originally registered to adopt.  We adopted Kane instead, now called "Pepper".  And with some consistent training, and LOTS of love we have an incredible family pet that not only responds to voice commands but to hand signals as well.  You guys are amazing.  I will always think of adoption from you first before I go back to any breeder.  I work from home and he sits next to me in my office and we keep each other company.  He is a joy to all of our kids, and absolutely loves the outdoors up at the cottage.  He has become an amazing family pet, and excellent house protector.  Thanks for bringing us our Pepper."
– Maria
Categories
Testimonial
Wish to thank everyone involved
I wish to thank everyone involved in the care and rescue of animals, especially volunteers.
Agnes
Sign up for news and updates
Thank you for joining our online community.