Update on Woody
by Laura Therrien | Happy Tails | April 9, 2013
Gregory didn't stay very long at the Ontario SPCA Provincial Education & Animal Centre (PEAC).  He was such a sweet boy that he was quickly adopted by Chloe and her family.  Here is an update on Gregory, now known as Woody.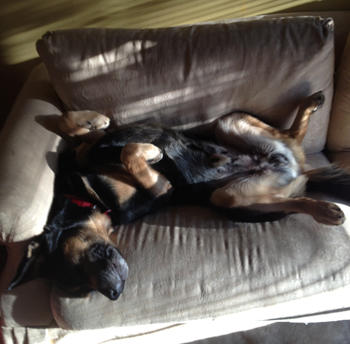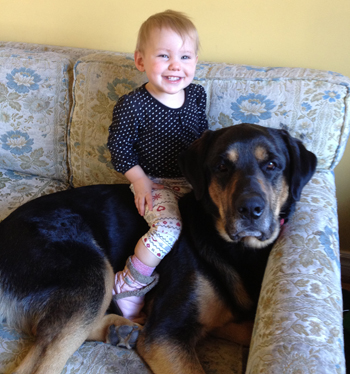 We are so happy and lucky to have adopted Gregory, now named Woody by my 3 year old son.  He's so smart, knows every command and is the greatest with my kids.  My neighbours want to steal him and i can't blame them!  Woody is by far the smartest and best behaved dog I have ever had, and it shocks me that he didn't have a home or anyone from his past looking for him.  I believe someone really loved him and took the time to train him.
 At the shelter I knew I was getting a nice dog, but I have was pleasantly surprised to learn exactly how smart and nice he is.  He is gentle with my kids and good with other dogs, smart as a whip and fetches!  When he arrived home you could tell how thankful he was to us, and he still won't leave my or my husbands side (not with anxiety but happiness to be around us). He enjoys long walks, naps on the couch with our little ones, and playing in the backyard with our other dog Pocco and neighbours dog who comes over daily to play.  It already feels like Woody has been with us forever, he fits right in, like he's always been there.  
Thanks again,
Chloe 
Categories
Thank you so much for all you do
Thank you so much for all you do every day to rescue animals in need. I can't imagine the terrible situations that you see every day.  It is great that you have the heart to help. Keep up the good work.
-Betty
Sign up for news and updates
Thank you for joining our online community.