Happy Valentine's Day! Enjoy This Valentine's Day Poem
by Emily Cook | Interesting | February 14, 2014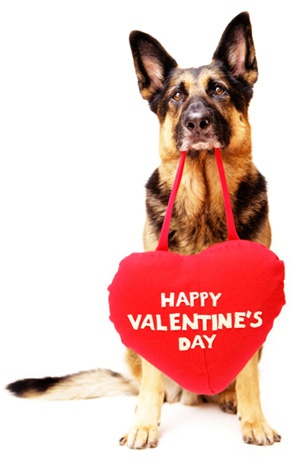 Happy Valentine's Day to you and your pets!
In celebration of Valentine's Day, enjoy this cute Valentine's Day poem!
ODE TO MOON HOUND

By: Linda C.
Source: www.dogster.com 
I ran beside the pickup.
I tried to jump in.
The truck zoomed away
so fast that day.
Left behind in the middle of the road.
I ran from side to side.
shivered no where to hide.
A woman stopped and stooped down low
She made kissing sounds and opened her arms.
I crawled on my belly. Peed along the way.
Cars didnt stop or slow their speed.
I had no collar. No ID.
No microchip. Just plain ole me.
The woman hugged and kissed me sweet. She placed ads
And drove the streets.
I jumped and leaped and messed up her bed. I ran circles and howled
And was greatly fed.
She called me Moon and that was okay. I have a new home and my whole life ahead.
When I see a man, I wiggle and weep. Always looking for the one who dumped me on that dangerous street.
Ill never forget. But I try to be sweet. I tilt my head and love her so dear. And this valentines day, I will mess up her bed, run circles and howl.
For she is my Valentine
and I am her pal.
For more Valentine's Day poems, click here.
If you're thinking about pet adoption, visit your Participating Society to take part in the "iAdopt for the Love of Animals" adoption campaign. Visit www.iadopt.ca for more information.
If you're not able to adopt this Valentine's Day, you can always Paws & Give™ instead. To view our Valentine's Day gift options, click here.
Categories
Testimonial
Thank you for your dedication
Thank you for your dedication to helping the animals.  Every animal deserves a loving home and to be treated royally.  Just imagine a day without animal cruelty.  What a wonderful day that would be!
-Joan
Sign up for news and updates
Thank you for joining our online community.