Working Together to Help the Animals
by Laura Therrien | Dog Care | March 18, 2013
Collaboration is key when working in animal welfare, and a recent rescue has proven exactly how important it is for various organizations to work together for the good of the animals.
Last December, the Ontario SPCA received a call from a concerned citizen regarding multiple dogs living on a Killarney property.  Ontario SPCA Officers conducted a full investigation and on December 17th, executed a warrant. With the recommendation of veterinarian, the Ontario SPCA removed 65 Weimaraner/Labrador Retriever type dogs of all ages from the property. The dogs were later surrendered to the Ontario SPCA.
Some of these dogs had scars and marks from fighting with each other; some had rolled eye lids, mammary masses and cysts.    The dogs were somewhat fearful and spooked by everyday noises and it was evident that they would require special care.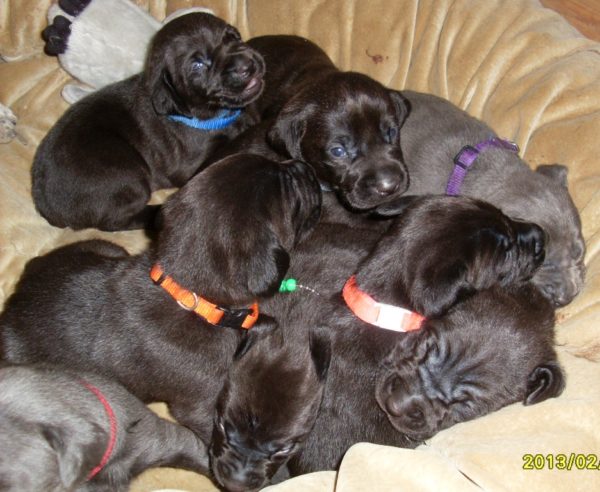 When the Weimaraner Association of Canada and the Ontario Weimaraner Rescue and Assistance (OWRASSIST)  learnt of the large rescue, they immediately offered their help and took  a combined 19 dogs, one of which was due to give birth to a litter of puppies at any time.  In fact, the mother went into labour on the very day they were due to be transported from the Ontario SPCA and gave birth to eight healthy puppies.
These two wonderful organizations took it upon themselves to help these dogs that were in poor health, and incurred all of their veterinary expenses, along with the cost of the spay/neuter procedures.  Through their networks and dedicated volunteers, they began raising funds to help cover some of the expenses, and have been diligently working to find foster and adoptive homes for these beautiful pets.
The Ontario SPCA would like to thank the Weimaraner Association of Canada and the Ontario Weimaraner Rescue and Assistance for their assistance in helping these special animals.  It is thanks to their dedicated volunteers and successful collaboration that these dogs were given a second chance for a happy life.
You can follow their progress by visiting the Weimaraner Association of Canada's Facebook page, the Ontario Weimaraner Rescue and Assistance Facebook page, or stay tuned to the Ontario SPCA blog as we update you on their progress.
Categories
Testimonial
Your dedication and support
It is with and because of your dedication and support that helpless animals are being saved. Thank you for everything.
-Wendy
Sign up for news and updates
Thank you for joining our online community.