Celebrating the veterinary professionals who keep our furry friends healthy
by Ontario SPCA and Humane Society | Campaigns Contests | June 13, 2022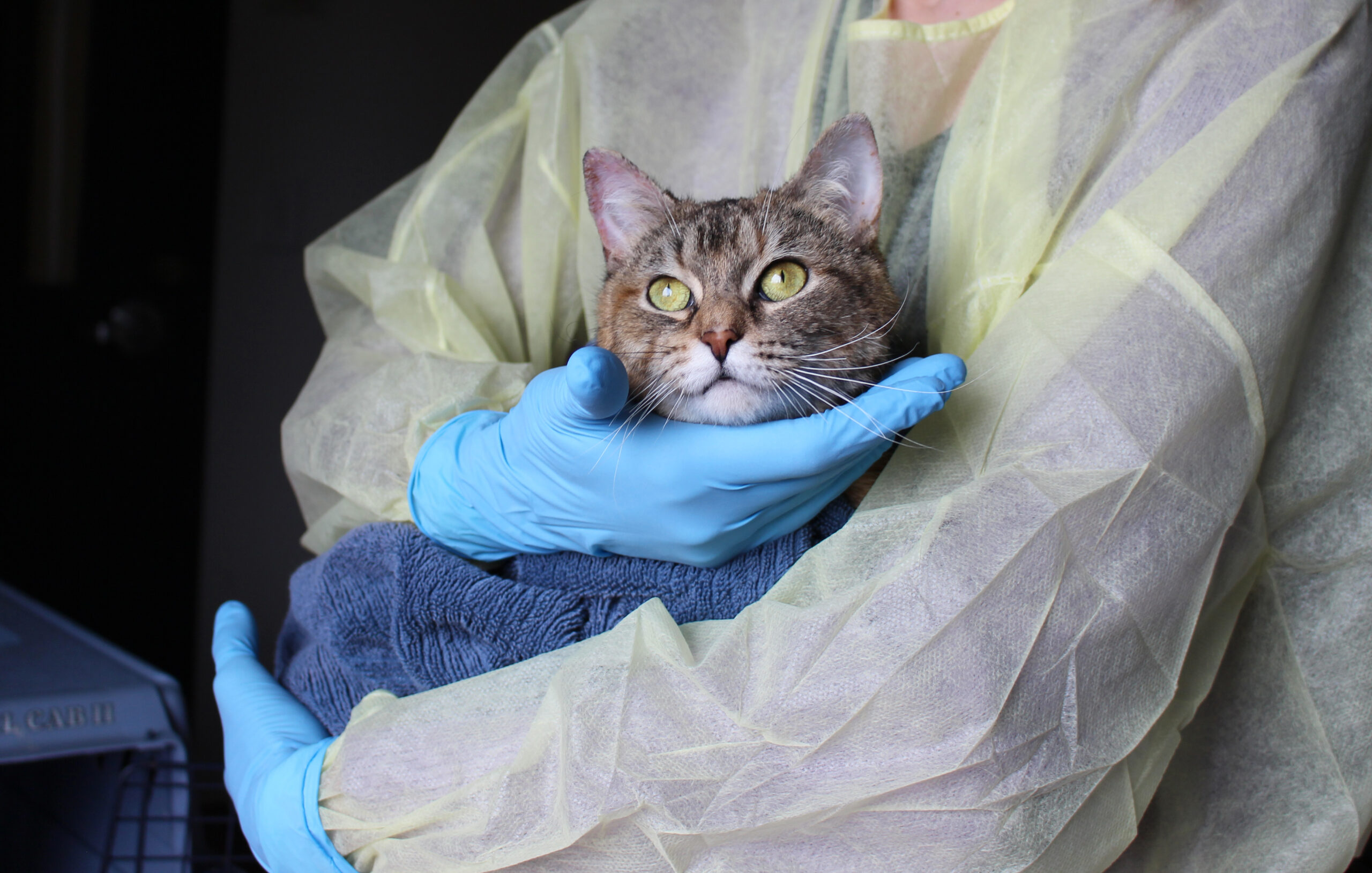 The feeling of watching an animal head home with their new family is what makes every day so special at Ontario SPCA and Humane Society animal centres. It truly takes a team to give an animal the second chance they deserve, and we couldn't do it without our local veterinarians and their team of veterinary professionals, which is why the Ontario SPCA is celebrating veterinary professionals from June 13-24 with its Veterinary Appreciation Campaign! 
Lifesaving second chances 
Suffering from a badly injured eye and leg, Hercules survived a bone-chilling winter storm in search of help. Sadly, the damage was done and Hercules needed to have his eye removed and leg amputated. Caring veterinarians and veterinary technicians made Hercules' second chance possible. Now he's living his best life. Read Hercules' story here.  
Ophelia's life was saved thanks to the fast-acting veterinary team who saved her life. During a routine spay procedure, the surgeon discovered that Ophelia had a pre-existing condition called Diaphragmatic Hernia that needed extensive emergency surgery to correct. Read Ophelia's story.  
Or Rosco, the Chihuahua who needed emergency surgery after eating a 13-centimetre-long wooden meat skewer that pierced through his stomach and abdominal wall. See his amazing recovery.  
Nominate your pet's veterinary care team 
The Ontario SPCA and the Humane Society is celebrating the dedicated veterinary professionals in our communities who make second chances possible with its Veterinary Appreciation Campaign, which runs from June 13-24.  
The Veterinary Appreciation Campaign is a way for pet parents to recognize their local veterinary professionals who give so much. Show your veterinary team some love by nominating your pet's veterinary clinic and encourage family and friends to vote to show their support. The veterinary clinic with the most votes will receive a plaque and a complimentary lunch for their staff. To nominate your pet's veterinary care team, visit vetappreciation.ca  
Dedicated to changing lives 
Veterinary professionals are an integral part of a team that ensures the health and well-being of our animal companions. From beginning to end-of-life care, everyday health and wellness to emergency care, they are the ones we depend upon for our furry companions. In addition, many veterinarians volunteer their time and skills to community outreach and emergency rescue work. 
After retiring in March 2020 following over 30 years in private veterinary practice, Dr. Janet Lalonde decided to give back to her community by volunteering with the Ontario SPCA. 
"I felt it was time to give back to the organization and volunteer my time when I can," says Lalonde, who is also a proud adopter. 
In addition to lending her knowledge to help with the transfer of dogs from overcrowded shelters in the United States to areas of the province where there are families waiting to adopt, Dr. Lalonde also assists with the Ontario SPCA Mobile Animal Wellness Services unit when it comes to her community. She helps with the intake of animals for spay/neuter surgery and with their recovery.  
From June 13-24, 2022, join the Ontario SPCA and participating SPCAs and humane societies in celebrating veterinary professionals across the province. Visit vetappreciation.ca to learn more and nominate the veterinary professionals you're thankful for.  
Categories
Testimonial
We have supported the OSPCA since 1951
We have supported OSPCA since our arrival in Canada in 1951.  Keep up the greatest  T.L.C. for animals.
-Paul & Des
Sign up for news and updates
Thank you for joining our online community.