Thanksgiving activities to enjoy with your pet
by Emily Cook | General Pet Care | October 14, 2019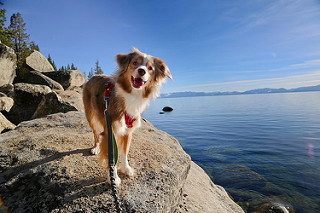 Looking to have some fun with your four-legged friend this Thanksgiving weekend? Here are some easy ideas to spend some quality time with your pet!
DIY pet toys
No matter the weather, enjoy your time together! Even if the local dog park is rained out, you can make your own pet toys for your furry feline or deserving dog. Check out this super simple DIY dog toy or DIY cat scratcher.
Brush up on grooming
Put down that mobile phone and pick up your pet's favourite grooming tool. Did you know that grooming not only keeps your pet's coat healthy, but provides a variety of benefits? Brushing removes dandruff, dead hair and dirt, but also stimulates natural oils that will keep your pet looking sleek and shiny. Take care to examine their ears, eyes, teeth, nails or unusual skin areas so you can speak with your veterinarian if it requires attention (early intervention can prevent expensive vet care down the road). Grooming is also a great way to bond and provides mental enrichment for your pet.
Take a hike
If the daily walk around the block is becoming a bit routine, break out and visit somewhere new. Whether it be a new dog park or hitting the local trails, your pet would probably also appreciate the change in scenery! We are so lucky in Ontario to have lots of accessible and pet-friendly options. Check out this list of pet-friendly parks in Ontario or you can contact your local parks and recreation department for a list of local dog parks or public trails in your area.
Try a new sport together
Have you watched an agility contest before? You may be amazed at how smart and well-trained the canine competitors are! Many pet owners enjoy brushing up on their pet's training now and then, but you could take it to a whole new level by searching for a dog agility club or dog training class.
Snap a selfie
As many experienced pet owners will tell you, time with our beloved pets is just not long enough. Download a fun app or simply take advantage of the fall foliage and grab some new pics of you and your pet. You can never have too many snaps of your furry friend, and it's something you can enjoy for years to come. (Photo tips: don't try to keep your pet still for the perfect shot. Just snap as many as you can when the moment is right! You can also try a new toy to entice your cat or a dog-friendly phone attachment that holds a ball or treat to capture your dog's attention.)
Categories
Thank you for looking after these animals
Thank you for looking after these animals — I would love to have them all in my house!
Ulla
Sign up for news and updates
Thank you for joining our online community.