Sweating for our never furgotten furmates
by Adam Maiolo | Campaigns Sweat for Pets | August 10, 2020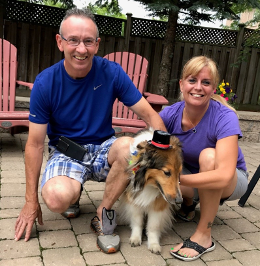 In memorial of beloved furry friends
All animal lovers dread the day that they will have to say goodbye to their furry friends. Some of us have already had to endure the loss of a pet. We know very well that the loss does not mean they are forgotten. Our pets are forever in our hearts and their companionship is never forgotten but deeply missed. So this week in the Sweat for Pets campaign, we are sweating with love for all the furmates who have passed on. Join us as we not only remember but also celebrate the undying bond that will forever be rooted in our hearts. 
Remembering Andy
Andy Collet was a 16-year-old Sheltie. He was loved to the moon and back by his parents, Melody and Fred Collet. Andy passed away in September 2018 after living life to the fullest.   
"This week we are dedicating our challenge to Andy's love of life and the enthusiasm and loyalty he showed his family. Fred and I are so very appreciative to have the opportunity to support the Ontario SPCA Sweat for Pets Fundraiser and to be able to honour such a very special dog. Enjoy and make sure you capture all your favourite moments with your special animals." 
We have some very special challenges this week. They commemorate the current and past bonds we have been so lucky to form with our furmates. It's not too late to join us. In addition, you will help provide animals in need with the opportunity to build a bond with a new forever family.  
Together, let's celebrate the unforgettable!
Read about some of our other Sweat for Pets challenges.
Categories
Testimonial
Speaking for the ones who can't speak for themselves
Keep up the good work speaking for the ones who can't speak for themselves. A society who cares for their animals is a better society.  Thanks for your good work!
-Suzali
Sign up for news and updates
Thank you for joining our online community.